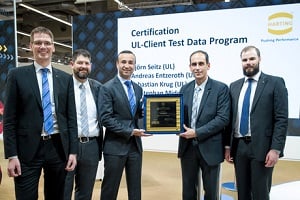 Celebrating UL certification, issued at the SPS IPC Drives Trade Show in Nuremberg: Dr. Stephan Middelkamp, Head of Quality & Technology Services at Harting Technology Group; Björn Seitz, Sales Manager E&PT Dach (UL); Jon DeSouza, President and CEO Harting Americas, Andreas Entzeroth. Engineering Director E&PT (UL) and Sebastian Krug, Sales Executive E&PT North Germany (UL; left to right). Source: Harting Technology Group
Underwriters Laboratories (UL), one of the world's leading safety certification organizations, has granted the Harting Technology Group the approval and license for the Client Test Data program. Under this program, Harting is able to conduct testing in its own test laboratory and submit the data to UL in order to streamline the process for UL certification. As a consequence, UL certification requirements are now seamlessly integrated into Harting's product development process, as samples can be tested in-house.
UL product certification, in turn, allows the Harting Technology Group to better support the North American Market. UL is an independent safety science organization that helps manufacturers to tackle business challenges and opportunities in safety and compliance, cybersecurity, sustainability, quality and brand leadership. The headquarters of the company is based in Northbrook, Ill. with numerous locations around the globe.