In response to the ongoing epidemic of gun violence in schools, artist Greg Bokor and CEO of Shooter Detection Systems (SDS), Chris Connors, have teamed up to create an "Early Response to Active Shooter Events" ("ERASE") campaign.
The ERASE campaign is raising money based on Guardian technology, which reduces the average emergency response time from 18 minutes to just a few, according to the team.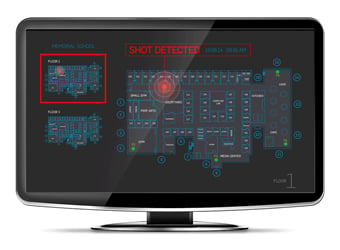 Active shooter technology and detection system for schools. Image Credit: E.R.A.S.E.The Guardian "hears" and "sees" gunshots using sound and infrared technology and notifies law enforcement and school officials immediately and automatically via the Internet. It also provides a blueprint of the school building with the shooter's location pinpointed.
Guardian Indoor Gunshot Detection system incorporates acoustic gunshot detection software and combines it with infrared gunfire flash detector designed to provide high rates of detection.
According to the SDS's website, "many corporations and public venues have installed the system, but only a handful of schools due to budgetary issues. It just takes too long to get this lifesaving technology installed in schools."
On November 9th, Bokor and Connors will launch an Indiegogo crowdfunding campaign to raise funds for additional school installations of the system.
SDS's gunshot detection systems used in the Guardian are developed in conjunction with the Defense Advanced Research Projects Agency (DARPA). The company's technology is currently deployed in schools, corporations, major utilities and manufacturing plants with upcoming installations in airports, financial institutions and hospitals.
The goal of the campaign is to raise the funds necessary to enable the installation of Guardian systems in 50 schools—one in each U.S. state. The school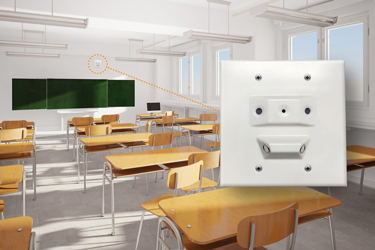 SDS technology. Image Credit: E.R.A.S.E. district with the most contributions on a per student average basis in each state will be awarded the Guardian technology. The results will be announced at a gala event following the conclusion of the funding effort where Bokor will recreate his "ERASE" exhibit.
Funds raised over the initial goal will be used to deploy systems in additional schools under the same agreement. SDS has agreed to offer the units at $20,000, including installation and training.
To contact the author of this article, email engineering360editors@ihs.com