4DS Inc., a subsidiary of an Australian company called 4DS Pty. Ltd., has been working on non-volatile memory technology since 2007. In December 2013 4DS appointed Guido Arnout, an experienced Silicon Valley semiconductor executive as CEO to lead the commericialization of its so-called MOHJO ReRAM technology. MOHJO stands for metal-oxide heterojunction operation.
This puts 4DS in the same camp as the Symetrix Corp. (Colorado Springs, Colorado) which is working on the development of a non-filamentary, non-volatile memory technology based on the metal-insulator Mott transition in nickel oxide and other transition metal oxides (TMOs).
Engineers from 4DS presented a paper at a meeting of the Northern California Chapter American Vacuum Society (NCCAVS) in November of 2013 (see Interfacial Engineering in ReRAMs based on Strongly Correlated Electron Systems).
In it Seshubabu Desu, Dongmin Chen, Lee Cleveland and Jean Yang-Scharlotta, described their memory, like that of Symetrix, as non-filamentary and as a correlated electron system. However, unlike Symetrix, 4DS authors describe the non-linear transport of oxygen vacancies across a hetero-junction and oxidation at the interface. The referenced material system is a praseodymium, calcium, manganese oxide (PCMO).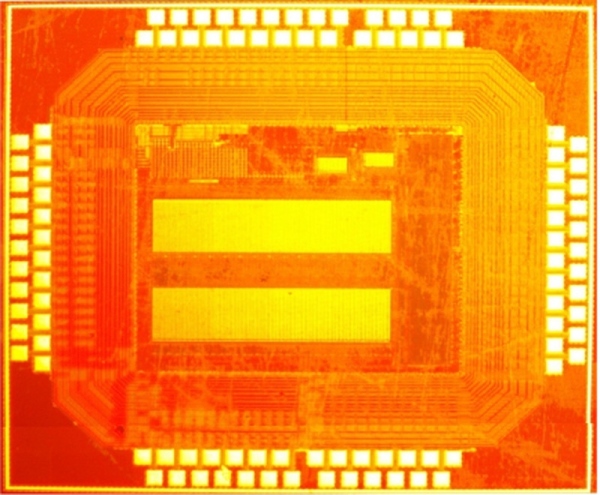 Die shot of 16-kbit MOHJO memory test chip. Source: 4DS
Resistive RAM is a promising technology that it is hoped could scale better than electron storage in flash memory. However, many of the versions of ReRAM developed to date have been based on the formation and breaking of conductive filaments within an insulator. This has given rise to questions over the thermal stability, the endurance and scalability of such two-terminal devices.
In contrast Symetrix and 4DS have both declared their memories to be based on Mott metal-insulator transitions that take place throughout the material system.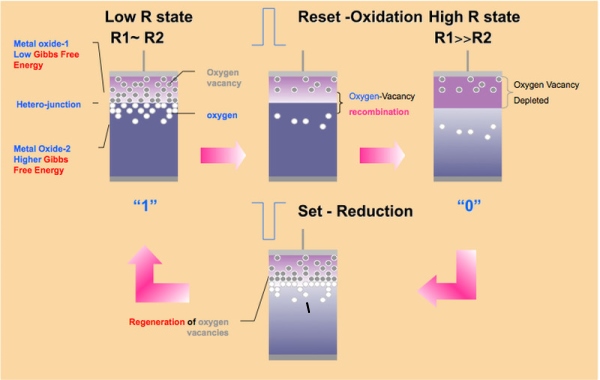 Set-reset as reduction/oxidation in MOHJO write cycle. Source: 4DS
4DS has worked with the Institute of Microelectronics in Singapore since 2011 to develop a 16-kbit ReRAM prototype and memory controller based on its technology. The technology is described as offering low-power operation, high-speed switching and scalability below 10nm. In addition it can be implemented as a back-end process on top of standard CMOS.\
Related links: