A new silicon-on-polymer chip combines flexibility with circuit functionality, providing scope for integration in wearable devices for hydration and fatigue monitoring, and for use with soft robotics for wounded warfighters or the elderly.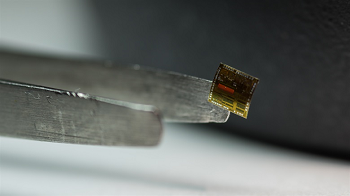 A collaboration between the Air Force Research Laboratory and American Semiconductor has produced a flexible silicon-on-polymer chip with more than 7,000 times the memory capability of any current flexible integrated circuit on the market today. Air Force Courtesy PhotoResearchers from the U.S. Air Force Research Laboratory (AFRL) and American Semiconductor thinned silicon integrated circuit chips until they became flexible. The devices also function as microcontrollers with onboard memory and can both control a system as well as collect data for future analysis. The chip is considered the most complex, flexible integrated circuit ever produced, featuring a memory more than 7,000 times larger than any other commercially available device.
"It's capable of turning a system on and off, and it can also collect data from a sensor and retain it in memory. Working with American Semiconductor, we took silicon integrated circuit chips and thinned them until they became flexible but were still able to maintain circuit functionality. This now allows us to place the microcontrollers—essentially minicomputers—in places we couldn't before," said Dr. Dan Berrigan, a research scientist at the AFRL Materials and Manufacturing Directorate. "We can wrap this type of chip around a fuel bladder sensor to detect leaks, use it to monitor munitions inventory and even augment cold-chain monitoring through temperature sensing. Enhancing logistics is just one of many ways this effort can help meet Air Force needs."
Another benefit of the new microcontroller, according to Berrigan, is that it is helping the U.S. silicon manufacturing base to evolve to meet future needs.
"Whereas the European industrial base is focused on printing all parts of these types of devices, we are helping the U.S. silicon manufacturing community to convert to flexible capabilities and integrating this with low cost, 3D printed electronic circuitry. This is a unique U.S. manufacturing capability."
The flexible system-on-chip received the "Best New Material or Component Development Award" in the Wearable Technology Category at the 2017 IDTechEx Show, distinguishing it as a significant development for enabling wearable technology devices.