Asahi Kasei Microdevices Corporation (AKM) has expanded its lineup of digital-to-analog converters (DACs) with the development of a two-chip solution that separates the digital aspect from the analog. While conventional DACs use a single chip to convert signals from digital to analog, these new products split the conversion process between the AK4191 delta-sigma modulator and the AK4498 DAC. This innovative approach has resulted in an improvement in perceived sound quality.
Applications for the new DACs include high-end audio, active speakers, compact disc (CD) players, network audio and more.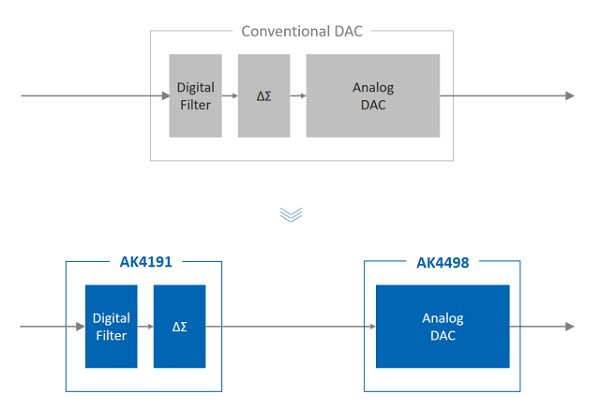 Source: AKM
AKM has minimized the effects of digital noise within the analog output by using two ICs, resulting in a perceived improvement of the ratio of signal to noise. This improvement is not easily quantifiable via traditional measurement techniques, but is easily experienced during controlled listening tests.
AKM's two DAC models provide unique benefits.
The AK4191 has increased the oversampling rate of digital processing to 256 times from the previous 8 times. This allows for aliasing artifacts due to sampling to be driven even further into the upper frequency range. The AK4191's digital filters can also reduce noise by 50 dB more than previous devices.
The AK4498 is a product of AKM's Velvet Sound premium audio manufacturing process, also used for the flagship AK4499 DAC and the preceding AK4497. This process results in much-improved noise immunity in general, and increased low-frequency noise performance in particular.
More information about AKM can be found on the company's website.