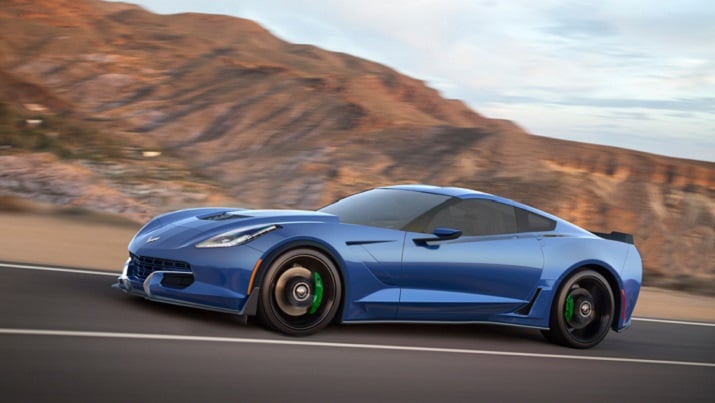 A pre-production model of the Genovation GXE will debut at CES 2018. Source: Genovation Cars Inc.
According to Genovation Cars Inc., it's the world's fastest street-legal electric supercar: The Genovation GXE will debut at CES 2018 with a pre-production version.
To build excitement, the company is releasing a series of pre-launch videos. The first, which premiered last week, focused on the integration of LED lighting cues into the vehicle's interior and exterior design. The most recent video (above) focuses on the car's tri-coat paint process, which is tailor-made to customer preference along with an interior design to match. And if you think the overall look is a little familiar, you'd be right: The car's design is a deliberate "tribute to American engineering using the iconic Corvette as the platform."
Yet these are just the small details: For gearheads, the real headline is that this ride boasts an all-electric, twin-motor powertrain that can achieve over 800 horsepower and 700 foot-pounds of flat torque curve. It will be available with either a seven-speed manual transmission, or a paddle-shifting eight-speed automatic. Genovation says that the vehicle's battery and powertrain technology are largely derived from F1 and Le Mans racing experience, and the car has already broken a world record for top speed at 209 miles per hour.
It's not all about the speed and performance; green values are at the core of the company's philosophy, from the use of natural rubber tires, soy-based foam seats, recycled plastic carpeting and more.
Just 75 production models are planned, and reserving one will set you back $250,000 — with another $500,000 as a balance due when the car is delivered, which won't be before 2019.
But you can catch it at CES 2018 without breaking the bank. The GXE's debut will take place Jan. 9, 2018, the first day of the CES trade show. Look for it in the North Hall Exhibition Space 3938 at the Las Vegas Convention Center.