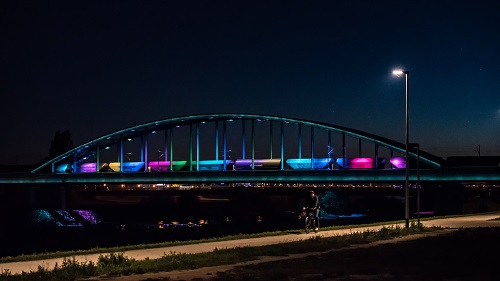 The Hendrix bridge lit up as a train passes. Source: Philips LightingPhilips Lighting has transformed the Hendrix bridge in Zagreb, Croatia, with a light emitting diode (LED) makeover that sets off a light show when trains pass over it.
The 300-meter long bridge spans the River Sava in the Croatian capital and is a railway bridge that became known as the Hendrix bridge since graffiti with rock guitarist Jimi Hendrix first appeared on it in 1995.
At night, the bridge is illuminated with white light showing off the design but when a train approaches a sensor detects it and the white light fades to black, causing the bridge to seemingly disappear. Then, as the train crosses the bridge, colored light comes on in sync with the speed of the train in a colorful light show. After the train passes, the bridge returns to white light.
"The goal was to upgrade the visual identity of the City of Zagreb. It is part of our plan to enhance city life around the Sava river," says Ivan Babic, head of the infrastructural services department for the city. "The innovative LED lighting highlights the grandeur, color and the beauty of the bridge. It's become a tourist attraction with people often stopping to take pictures in front of it."