In mid-January, residents in New York's Hudson Valley were treated to a spectacle: explosive demolition of the eastern span of the former Tappan Zee Bridge.
Since October 2017, all motorists have crossed the Hudson River from South Nyack to Tarrytown, New York, via the Governor Mario M. Cuomo Bridge, officially abandoning the deteriorating Tappan Zee. The new bridge's second span opened to traffic in September 2018. The new bridge doesn't just provide a river crossing: It leverages some smart and digital technologies to keep commutes, safety and maintenance as efficient as possible.
According to the New York State Thruway Authority, the new bridge's structural health monitoring (SHM) system is among the most complex in the country. Among the installed systems are corrosion sensors, weather stations, fiber optic strain gauges to measure bridge loading and stress, GPS to measure bridge movement and settling, temperature sensors on the bridge deck and towers, 3D accelerometers to monitor cable stays, inclinometers to measure piers and pylons, and ultrasonic distance sensors to monitor expansion joints.
With these tools, engineers are expected to be able to quickly evaluate bridge conditions, plan maintenance protocols and compare bridge performance year-over-year.
Wartime engineering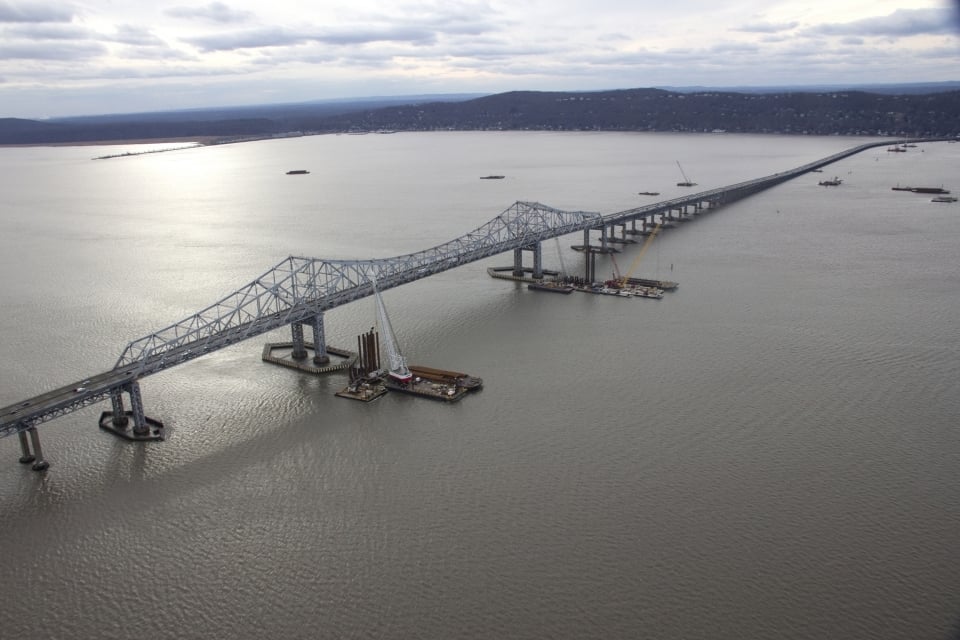 Crews install pilings for the new bridge in 2013, in the shadow of the Tappan Zee. All that smart technology is in contrast to the Tappan Zee bridge, which opened in the decidedly analog days of December 1955.
That didn't stop Governor Thomas E. Dewey from lauding it as a marvel of engineering when he opened it to motorists. And the Tappan Zee also may have been something of a marvel of political chutzpah.
Dewey's administration insisted that the bridge be constructed more than 25 miles from the Statue of Liberty. Under various agreements, toll revenue from bridges and tunnels within 25 miles of Lady Liberty is collected by the Port Authority of New York and New Jersey and shared between the two states. Building the Tappan Zee just north of the Port Authority's jurisdiction cut New Jersey out of any toll revenue.
But the location also put the bridge smack at the Hudson River's second-widest point. Engineers had to bridge the 3 miles between the west and east riverbanks, while constrained by a thrifty $81 million budget and scarce materials due to the Korean War.
Engineers relied on infrastructure innovations from World War II to make the Tappan Zee possible. Because bedrock was 300 ft or more below the riverbed, traditional caisson construction proved impossible. Designers turned to Phoenix-style caissons, which were invented for the modular Mulberry harbors used to unload ships onto beachheads in World War II. These are sometimes calls floating caissons because they rest on prepared riverbed, not bedrock.
These caissons feature vertical shafts with concrete-filled, 30 in steel pipe piles driven through the caisson and into the bedrock. Once set, the piles are encased in concrete. The caissons at the Tappan Zee included air compartments to increase the buoyancy of the structure and pumps to remove water. The pumps were expected to last the bridge's 50-year service life. Upon decommissioning, the bridge and its pumps were 62 years old.
Aging infrastructure
The need for a Tappan Zee replacement was clear for many years. The bridge carried much more traffic than was first thought. Its roadway proved more susceptible to traffic accidents than nearby highways due to visibility issues. The structure lacked a breakdown lane to allow access to accidents, snarling traffic. The bridge's drainage system contributed to its structural corrosion, and its annual maintenance budget averaged $100 million.
One critical failure was that the bridge was non-redundant. In other words, the bridge loads would not transfer to another support if one was damaged. After the structure was built, it was found that the bridge rested above an inactive seismic fault line. Between 2007 and 2009, 48 decking "punch throughs" – literal holes in the bridge roadway – were discovered.
Workers also discovered shipworms on submerged wooden test panels, but found no evidence the worms penetrated the bridge's timber pilings, although they suspected as much. Water pollution levels in the Hudson culled the population of Teredo navalis shipworms through much of the 20th century. Ironically, improved water conditions sparked a species revival that threatened the bridge's structural elements.
Planning for a bridge upgrade or replacement began nearly 20 years ago. By 2003, engineers were down to 15 options, including performing rehabilitation work on the existing span, building tunnels for trains or vehicles, or pursuing a replacement bridge. In 2012, the U.S. Federal Highway Administration approved a multi-billion dollar, twin-bridge, cable-stayed design that would be constructed adjacent to the Tappan Zee. Along with causeways, each span of the new bridge would be 3.1 miles long.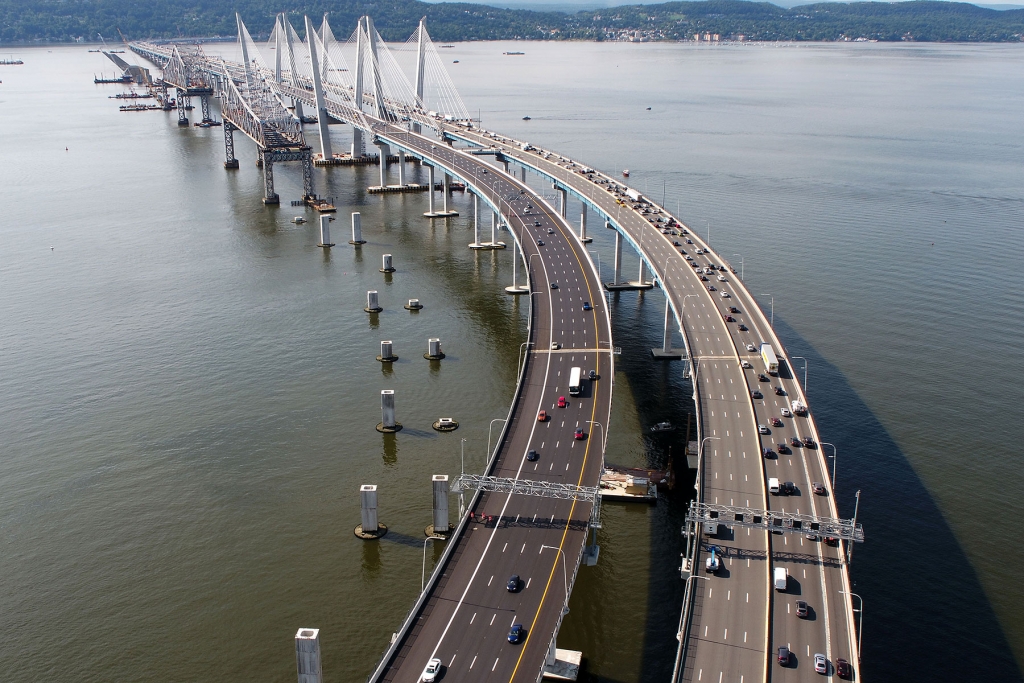 Commuters crossing the Governor Mario M. Cuomo Bridge witness the gradual teardown of the Tappan Zee.
Construction on the new bridges began in 2013 and required the help of a barge crane with a lifting capacity of 1,699 tonnes, one of the largest in the country. Westbound vehicular traffic moved to the new span in August 2017; eastbound traffic transferred to the same span that October in a temporary traffic pattern. The second span opened to eastbound traffic last September.
As of early 2019, contractors were at work dismantling the old bridge. Engineers discovered the Tappan Zee eastbound span was more unstable than expected, prompting the decision to bring it down with explosive charges. Rather than let the old span rust on the riverbed, salvage crews later raised it.
"Although both structures are built end-to-end, there are still systems being commissioned," said Mike Whalen, P.E. for HDR, the lead engineering design firm and subcontractor for the Tappan Zee Constructors LLC consortium. As bridge systems design manager, Whalen is responsible installing and integrating mechanical, electrical, electronics, security, traffic and structural monitoring systems.
A high-tech span
The new spans have an expected service life of 100 years. To make that possible, New York State Thruway Authority officials and engineers are counting on a number of advanced systems and sensors to make informed, responsive decisions about bridge operations.

Infographic of some essential SHM sensors on the Governor Mario M. Cuomo Bridge.
Altogether, more than 300 sensors are in place to measure anything from corrosion in the concrete, to corrosion on the deck, temperature, strain and fatigue for the cables, Whalen said. With near real-time tracking, operators will be able to understand how the bridge is reacting as loads are transferred throughout the day. Many of these systems are still being installed or awaiting final commissioning.
[Learn more about strain gauges, accelerometers and inclinometers on Engineering360]
The data from the bridge's structural health monitoring (SHM) systems also helps streamline bridge traffic through an intelligent traffic and digital signage system to optimize bridge throughput, maintenance and safety. Authorities can change digital highway signage to inform drivers of traffic disruptions and to change speed limits based on traffic and road conditions. Snow removal crews have real-time monitoring of road temperatures and local weather. Lane control signs are digital, and the intelligent transportation system extends to variable message signs and speed limit signs.
"We've had hundreds of algorithms written for different events that could occur," Whalen said.
Automatic, cash-less, gantry-based tolling eliminates the need for drivers to stop or slow to pay tolls. Weigh in motion systems measure vehicle weights and traffic volume data, so engineers can assess the wear and tear on load-bearing bridge components. Energy-efficient LED lighting provides illumination for nighttime drivers, navigational aids for river traffic, and aesthetic lighting for the dramatic structure. Bridge officials and contractors are tight-lipped about specific security measures, but high-tech monitoring systems account for many potential vulnerabilities.
A bridge outfitted with this many electronics requires substantial electricity. A 15 kV feeder line on the existing Tappan Zee provided temporary power during construction. Permanent electrical needs are met by two 15 kV systems, one for each span, with the bridge electrical load rated at 2.4 MW. Three substations per bridge reduce the voltage to 480 V, before being further reduced to 120 V to power cameras, sensors, lights and other edge devices. Since the new bridge connects two counties served by different utilities, each span is powered by a different utility. A mechanical interlock can alternate power providers in the event of a prolonged power outage. Further electrical redundancy is provided by two 15 kV natural gas emergency generators.
[Learn more about mechanical interlocks]
Connecting all this electrical infrastructure are miles of conduit hidden in raceways below the bridge to protect the bridge's visual aesthetic, a common criticism of the old Tappan Zee.
"We did a very coordinated design with the structural engineers to ensure everything would be hidden from view," Whalen said. "It's really an impressive thing to me," he admitted, although the public will never see it.
Bridging the future
The Governor Mario M. Cuomo Bridge might last 100 years, but personal and public mobility is rapidly evolving. For example, the U.S. automotive fleet may drastically reduce and the majority of future personal commuting may occur via mobility-as-a-service or public transportation. Those factors require a bridge design that can adapt to future transportation vehicles and trends.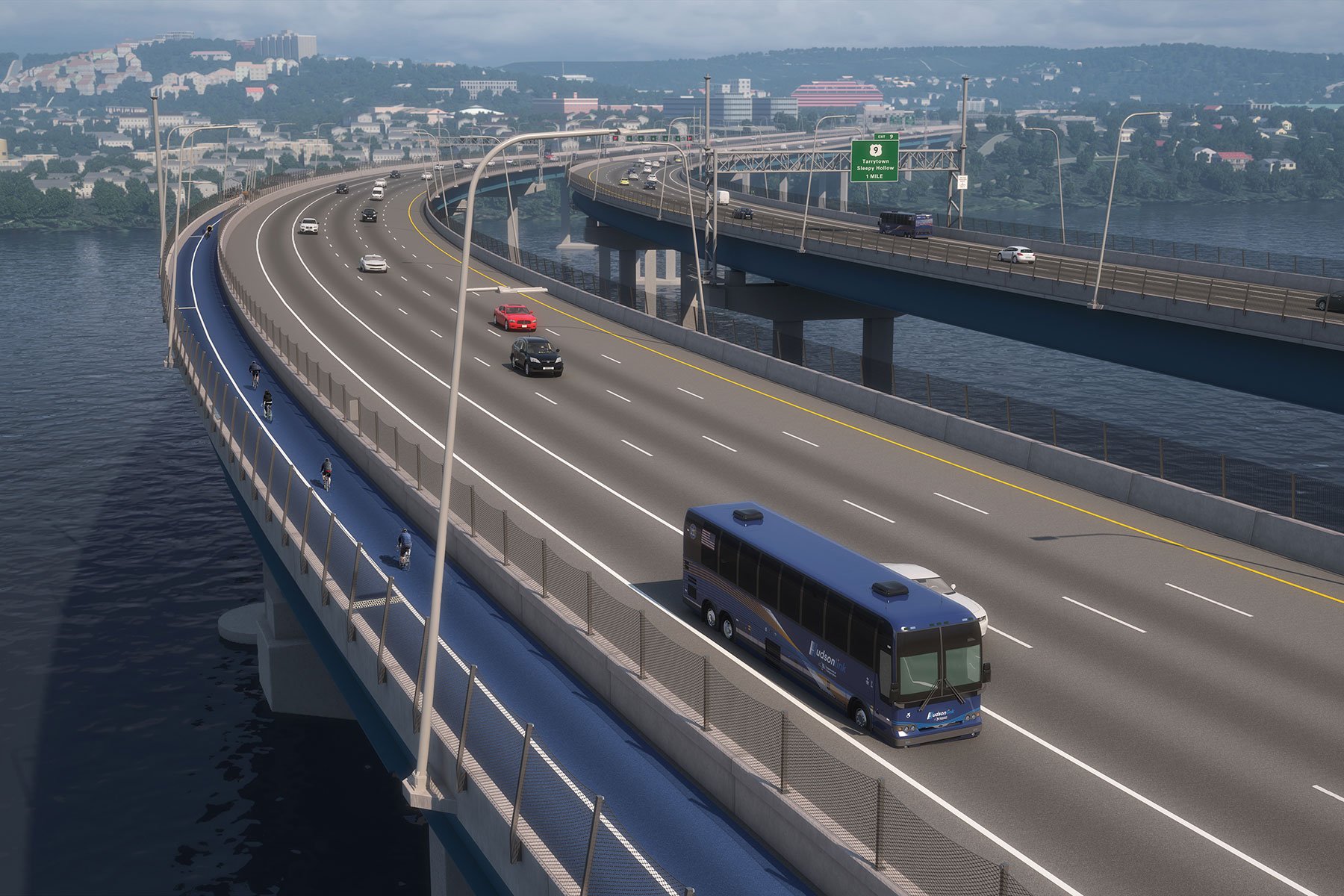 The express bus service expects 230 one-way transits per day, with annual ridership of 400,000 passengers.
The bridge will include a dedicated, shared-use pedestrian path, something the Tappan Zee lacked. It also includes dedicated express bus lanes.
The bridge's design included the option to add commuter or light rail lines to the existing bridge supports. No submerged construction needs to occur to add a rail line.
The bridge also anticipates substantial data exchange with connected cars in the future.
"In terms of connected vehicles, we've designed additional capacity into the electrical and network systems to handle the type of bandwidth that would come with a connected vehicle network," Whalen said.
Planning for the new bridge's future, and protecting it with modern technology, is a contrast to how the Tappan Zee Bridge was built. One journalist writing in 2011 described the Tappan Zee as one of the last American infrastructure projects built to the outdated philosophy: build first, ask questions later.
Engineers feel confident that the new bridge leaves few present-day or future questions unanswered.
[Related reading: New Hampshire bridge outfitted with smart sensors]