Researchers from the Korea Electrotechnology Research Institute (KERI) used 3D printing techniques to create a nano display with high-quality resolution.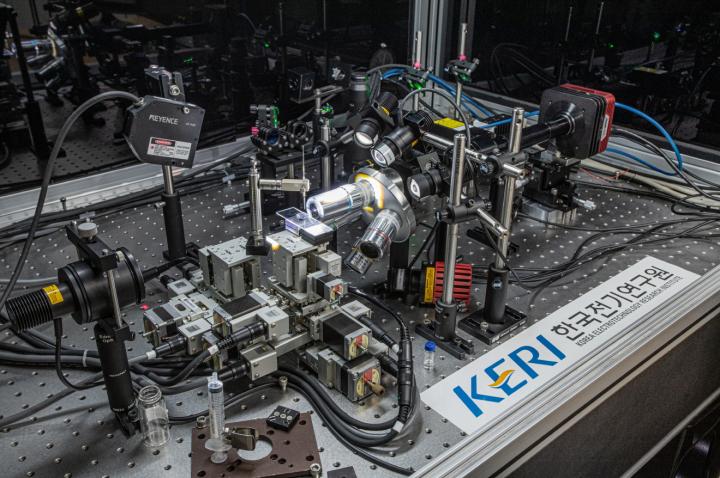 The research team developed a technology to produce a 'nano display' with a phenomenal resolution based on the 3D printing technique and posted the result of the study on a SCI journal, garnering much global attention. Source: Korea Electrotechnology Research Institute (KERI)
The team method is called nanophotonic 3D printing technology. This method produces super-high-resolution displays with high-density integration of nanoscale pixels.
To create the new 3D pixels, the team based their method on the 3D production of quantum dots. When stimulated by light or electricity, the quantum dots emit light in multiple colors. Quantum dots are widely used for display in electronic devices. To manufacture displays with quantum dots, pixels are produced by coating them lightly in a film.
As pixel size decreases and more pixels are densely integrated into a device, a more precise and delicate image is produced. But as pixel size shrinks, the light intensity is limited.
While working on the project, the team believed that the production of pixels with a 3D structure would secure the intensity of light needed to produce a high-resolution image. Researchers demonstrated successful pixel production of pixels with their 3D printing tech. The lateral dimension of the pixels 620 nm and 10,000 nm in height.
The team applied the 3D structure to overcome the light intensity problem. With the 3D layout, the team saw a two-fold increase in brightness with full colors compared to a conventional thin-film based structure.
Pixels per inch (PPI) is an indicator used to measure the pixel density. The team demonstrated three primary colors in 5,600 PPI exceed the PPI of an 8K QLED TV, laptop and smartphone. It even surpassed commercial technology.
The new technology could be used in devices that require high resolution, like VR/AR or beam projectors.
A paper on this research was published in ACS Nano.