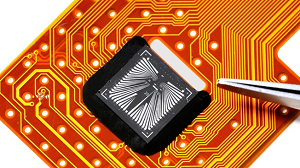 The low-power system can be worn directly on the skin or embedded in a bracelet to monitor sodium, body temperature and other health indicators. Source: EPFL / Alain Herzog
A miniature chip designed by researchers from EPFL (École Polytechnique Fédérale de Lausanne) and startup Xsensio encapsulates and assays biomarkers in the user's sweat. The low-power system fits on a chip measuring less than 1 cm² and can be worn directly on the skin or embedded in a bracelet to monitor sodium, potassium, body temperature, pH and other indicators of a person's health. The data recorded can be sent directly to a smartphone.
Small volumes of sweat are transferred to the chip, via capillary action, by two fluidic layers that sit between the chip and the user's skin. Each of four sensitive silicon sensors are about 20 nm thick and coated with a different material for the detection of different biomarkers.
"Ours is the only device out there that includes such a system on a chip," says Professor Adrian Ionescu. "Even today's most advanced devices use sensors that are 10,000 times bigger than ours, and need a larger volume of sweat to be able to effectively analyze biomarkers."
Device miniaturization was made possible with sensor technology developed at EPFL, while Xsensio contributed nanofluid interface with users' skin and the thin biochemical layers that enable the sensors to detect specific biomarkers. The team is now working on incorporating the system into a bracelet or other wearable device so that it can be launched on the market.
The system was recently presented at the 63rd International Electron Devices Meeting in San Francisco.