Heilind Electronics, a distributor of electronic components and authorized distributor for 3M, recently added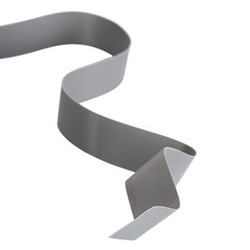 Heilind is now stocking 3M's round conductor flat, LSHF cable. Source: Heilindthe 3M's new round conductor flat, low-smoke, halogen-free (LSHF) cable, HF447 series to its growing inventory of interconnect and cabling products.
The HF447 is similar to 3M's 3447 Series, which also features 30 AWG tinned solid copper conductors on 0.025 in wire spacing. However, HF447 series cables utilize LSHF polyolefin blend insulation rather than PVC insulation. The LSHF design reduces smoke and toxicity of combustion gases, resulting in a more durable product with a lower risk to firefighters. In addition to being UL LSHF-certified, the cables support a broad operating temperature range of -40° C to 90° Celsius.
Featuring a zippable construction for discrete termination, HF447 series cables accommodate mass termination to a broad line of insulation displacement contact (IDC) connectors. They can also be directly soldered to a printed circuit board.
Because of their durable design, high signal density and flexibility, the cables are a popular choice for a wide range of LSZH internal wire-to-board applications, including communications networking and data center equipment, SCADA systems, HVAC systems, medical devices and transportation infrastructure.