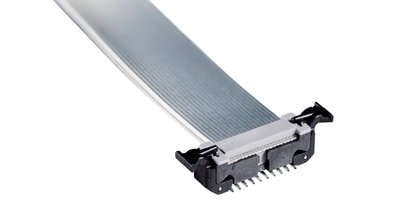 Heilind is now stocking 3M's 7700 Series round conductor flat ribbon cable with controlled impedance. Source: Heilind
Heilind Electronics recently added the manufacturer's new 7700 Series 0.025-inch round conductor flat ribbon cable to its growing inventory of interconnect and cabling products.
The 7700 Series supports IDC (insulation displacement contact) termination and can be used in a variety of controlled impedance LVDS (low voltage differential signaling) wire-to-board applications, including automated test equipment and communication network equipment. The 7700 Series flat ribbon cable has a breakthrough design that supports speeds of up to 20 Gbps and enables tighter folding with minimal performance impact.
3M's 7700 Series flat ribbon cable is constructed using 30 AWG solid conductors and polyolefin insulators and the outer layer is laminated with flexible foil to control impedance at 95 ohms.
To learn more about this new product, visit Heilind.