Mouser Electronics, Inc., is now stocking the PAC1934 precision power and energy monitoring chip from Microchip Technology. Designed with an I²C- and SMBus™- compatible interface, the PAC1934 chip provides selectable bi-directional current sense capability from -100 mV to +100 mV. The chip offers increased precision in power and energy monitoring, with measurement accuracy down to 1 percent over a wide dynamic range.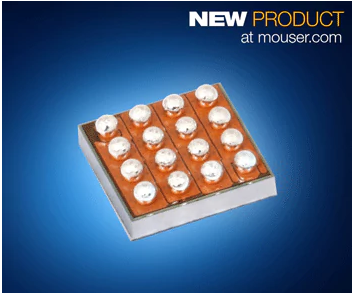 (Mouser)
The Microchip PAC1934 DC power/energy monitor with accumulator is a highly capable chip designed to measure everything from simple Core Processing Unit tasks to software running on USB Type-C-connected devices. The PAV1934 has a four-channel, a high-side current sensor with a 100mV full-scale voltage sense range, 16-bit resolution and directly connects to voltage rails from 0V to 32V. The chip's bi-directional capability enables it to track both battery charging and battery discharge. The chip accumulates and stores 28-bit power results, enabling easy retrieval by the system mater or embedded controller. The I²C and SMBus interfaces allow engineers to configure a variety of controls, including energy integration periods from 1 millisecond to 36 hours and sampling rates of 8, 64, 256, 1024 samples per second.
Microchip's PAC1934 device is ideally suited for use in server, networking, automotive and industrial applications. The chip's forward-thinking, the bi-directional design makes it an essential tool for use with USB Type-C charging topologies.
To learn more about these monitoring chips, visit the Mouser site here.