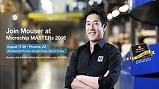 MASTERs is an in-depth exchange of technical information between Microchip subject matter experts and the company's technical partners, including customers and design partners.
The Microchip MASTERs Conference is the premier technical training event for embedded control engineers. This year, the MASTERs Conference commemorates its 20th anniversary with the theme Inspire. Inform. Innovate. Mouser will celebrate the conference anniversary with featured speaker Grant Imahara, spokesperson for Mouser's Empowering Innovation Together™ program.
Well known in the engineering community, Grant Imahara has paired his engineering expertise with a Hollywood TV and film career. In addition to his roles on "MythBusters" and "BattleBots," Grant has worked on many famous robotic characters, including R2-D2 in the Star Wars prequels, "The Late Late Show" robot skeleton sidekick Geoff Peterson and the Energizer Bunny. Grant has also mentored a FIRST Robotics team, lending his expert guidance on how to create the right robot for the right job.
On Thursday, August 18, Grant will share where he gets his inspiration, information and innovative ideas. After Grant's presentation, he will open the floor for a live Q&A where MASTERs attendees will get the opportunity to meet Grant personally and take photos.
The MASTERs Conference features four days of networking opportunities, fun activities, exhibitor booths, and over 100 lectures and hands-on classes for engineers of all skill levels. Engineers can choose from classes about Microchip's products as well as general embedded control topics, such as motor control, power supply design, lighting control, communication protocols like Bluetooth, LoRa, USB and TCP/IP, C programming, graphic display technologies, touch sense methods and analog system design. Most of these classes are taught by the same application and design engineers who create the products, application notes and demo boards that are used in the classrooms.