Engineers have developed the first microrobot that can transition from water to air, dives into water and swims, propels itself out of water and safely lands. This latest-generation RoboBee engineered at Harvard University is 1,000 times lighter than any previous aerial-to-aquatic robot. Researchers suggest it could be used for from search-and-rescue operations and environmental monitoring applications.
The 175-milligram robot uses a multimodal flapping strategy to efficiently navigate in both water and air. The optimal locomotive strategy, which enables the device to flap its wings at 220-300 hertz in air and 9-13 hertz in water, was determined by combining theoretical modeling and experimental data.
RoboBee is equipped with four buoyancy chambers and a central gas collection system. As the robot swims to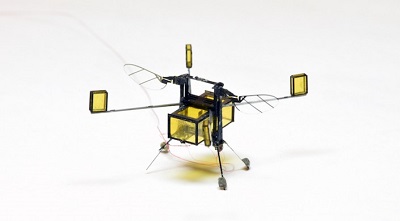 The hybrid RoboBee can fly, dive into water, swim, propel itself back out of water and safely land. Source: Yufeng Chen/Harvard SEASthe surface, an electrolytic plate produces oxyhydrogen from the surrounding water that is collected by the buoyancy chambers. Increased buoyancy force from this electrochemical reaction gradually pushes the wings out of the water while the robot maintains upright stability by exploiting surface tension. A sparker ignites the oxyhydrogen, and the robot impulsively takes off from the water surface.
"By modifying the vehicle design, we are now able to lift more than three times the payload of the previous RoboBee," said Yufeng Chen, who was a graduate student in the Microrobotics Lab at the Harvard John A. Paulson School of Engineering and Applied Sciences when the research was conducted. "This additional payload capacity allowed us to carry the additional devices including the gas chamber, the electrolytic plates, sparker, and buoyant outriggers, bringing the total weight of the hybrid robot to 175 miligrams, about 90 mg heavier than previous designs. We hope that our work investigating tradeoffs like weight and surface tension can inspire future multi-functional microrobots – ones that can move on complex terrains and perform a variety of tasks."
Because of the lack of onboard sensors and limitations in the current motion-tracking system, the RoboBee cannot yet fly immediately upon propulsion out of water but the team hopes to change that in future research.