Researchers have created Robobee, a flying microrobot powered by soft artificial muscles.
This robot can crash into walls, fall on the floor and collide with other Robobees without damage. It was developed as a collaboration between researchers from Harvard Microrobotics Laboratory and the Wyss Institute for Biologically Inspired Engineering.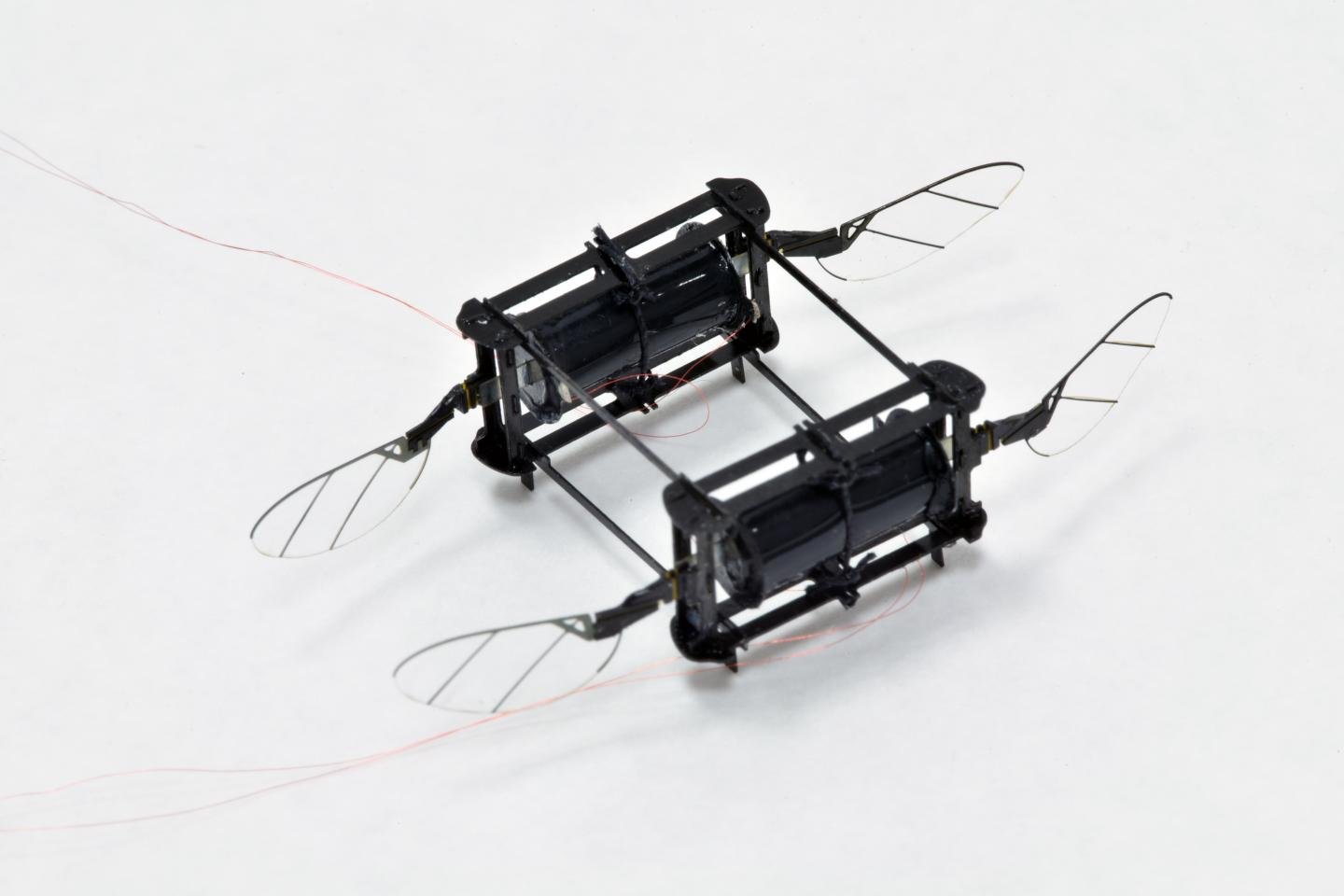 A four-wing, two actuator model could fly in a cluttered environment, overcoming multiple collisions in a single flight. Source: Harvard Microrobotics Lab
A critical component in the design is the actuator, which is responsible for moving and controlling a mechanism. To operate, an actuator requires a control signal and a source of energy.
Soft actuators are resilient and researchers hope to use them for mobile robotics. They are easy to assemble and replace, so if one actuator breaks, it is readily repaired.
But it also has been difficult to develop flying robotics with soft actuators. This is because the actuators lack a high enough power density to enable the robots to fly. Also, actuators can be hard to control. But the team's new actuator has a higher power density and controllability.
To overcome the power density issues, researchers built on electrically driven soft actuators made from dielectric elastomers. The soft materials have insulating properties and deform when an electrical field is applied. The improvement to electrode conductivity allowed the team to operate the actuator at 500 hertz, about on a par with the rigid actuators that were used previously.
Another challenge the team had to overcome was soft actuators' tendency to buckle and become unstable. To address this, the team built a lightweight airframe and included a piece of vertical constraining thread that prevents buckling.
The team built several models of Robobee to test its flight capabilities. A two-wing, single-actuator model could take off from the ground, but it had no control. A four-wing, twin-actuator model could fly well in a cluttered environment and recover from multiple crashes with other Robobees. An eight-wing, four-actuator model achieved controlled hovering flight, and was one of the first times a soft flying robot could achieve this feat.
The team says the next step is to increase Robobee's efficiency and hope to see the technology used in search and rescue missions.
A paper on Robobee was published in Nature.