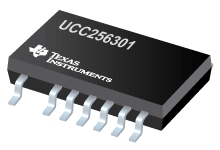 The UCC256301 resonant controller. Source: Texas InstrumentsTexas Instruments has introduced a new inductor-inductor capacitor (LLC) resonant controller with an integrated high-voltage gate driver for what the company claims is the lowest industry standby power.
The device is built to allow for longer system lifetimes for a variety of energy-efficient AC/DC applications such as digital televisions, gaming adapters, desktop computers and notebook adapters as well as power-tool battery chargers.
The UCC256301 is the first in a family of new high-performance LLC controllers allowing for standby power of less than 40 mW when fully regulating the system output. TI says the device features fault-protection with zero current switching avoidance.
The device is available now and is priced at $0.99 in 1,000 unit quantities.