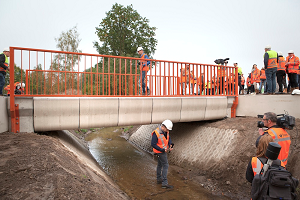 Installation of the 3D-printed bridge. Source: Paulien van de Loo/HH
Along with the U.S. and China, the Netherlands is taking a lead in the advancement and application of 3D printing, using computers and robotics to construct objects and structures without using traditional manpower.
Last year, a Dutch architect unveiled a unique 3D printer with which he hopes to construct an "endless loop" building. And a start-up called MX3D has begun printing a stainless-steel bridge, of which a third is already completed. Plans call for installing the bridge over an Amsterdam canal in June 2018.
The latest demonstration of this technology was recently unveiled in the southeastern Dutch town of Gemert: what's touted as the world's first 3D-printed concrete bridge. Work began on printing the 8-meter (26-feet) long, reinforced, pre-stressed concrete bridge in June and the construction was lowered into position in September.
The structure was printed with about 800 layers as a joint production between students at Eindhoven University of Technology and construction group BAM Infra. The bridge was tested for safety to bear loads of up to two tons. While designed for bicyclists, it can withstand the weight of up to 40 trucks.