A prototype neural probe with unprecedented electrode density has been fabricated with silicon chip technology by the Imec research institution in Belgium as part of the EU-funded NeuroSeeker project. The ability to build ever more complex and capable brain-computer interfaces and neural implants requires being able to interface with as many neurons as possible. The new neural probe is so densely packed with hundreds of electrodes that individual neurons can be read and stimulated using the new device.
Marleen Welkenhuysen, NeuroSeeker project manager at Imec, commented: "Our goal was to fabricate a brain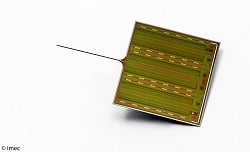 Imec's CMOS-compatible NeuroSeeker high-density neural probe. Source: Imecprobe that would enable a breakthrough in the level of detail by which microcircuits of the brain cortex and also deep brain structures can be studied. Previous probes were severely restricted in the number of signals that could be captured simultaneously which limited their use as a basis for research and therapeutic tools. With this new probe, we demonstrate that it is possible to create powerful electronics that can interface with the brain on the level of small neuronal circuits and even individual neurons."
Nanofabrication with silicon chip technology, which is capable of realizing ultra-small sensing and activating electrodes at an impressive density on a small surface, enables production of such tools to improve diagnostics and understanding of brain diseases. The chip package-sized probe includes a base chip and protruding biocompatible needle sized (8 millimeters long, 50 micrometers thick and 100 micrometers wide) to minimize damage to brain tissue. Hundreds of electrodes, each a tiny square measuring 20 x 20 square micrometers, are arrayed along the needle. A time-division multiplexing scheme connects eight electrodes with electronics in the base chip in an arrangement that supports the ability to read out all electrodes simultaneously and allows for the dense layout.