New Rainhoods from Pfannenberg (Lancaster, N.Y.) protect the user's applications from harsh conditions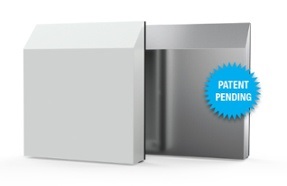 Source: Pfannenbergimposed by rain, water spray, snow or other fluids. The enclosures are designed for use with standard Filterfans®, which optimize forced convective cooling. The Rainhoods feature a robust design rated to NEMA Type 3R/4/4x and IPx6 when used with these Pfannenberg Filterfans®.
Incorporation of high compression, closed cell gaskets with multiple seal dams ensure a proper NEMA Type/IP rating seal for the enclosure. The mounting bracket can easily be installed around the existing cut-out.
The Rainhoods also feature a direct spray barrier and high air-flow baffle to allow for superior protection from overspray entering the cabinet while minimizing airflow loss. The industrial version is available in powder coated RAL 7035 light grey galvanized steel, ANSI 61 dark grey, and 304 or 316 stainless steel cover design.
In addition to the standard painted and stainless steel designs, Pfannenberg also offers a specialty 4X stainless steel Rainhood to meet U.S. Food and Drug Administration (FDA) compatibility requirements for food and beverage manufacturing facilities. A white gasket design is ideal for Rainhoods used on enclosures in this sector. The gasket allows for easy detection of any contamination and is free of potentially harmful color additives.
With a smooth, clean and seamless design, Pfannenberg Rainhoods allow for easy washdown and disinfection. The unit is easily removed for maintenance and filter mat replacement, and the gasket will not be compromised due to its ultimate bond with high peel/shear resistance and excellent UV aging. The sanitary version is available in a stainless steel, FDA-compatible white gasket design.