Bud Industries has unveiled the PTQ Series enclosure—an IP67 and UL NEMA 4 and NEMA 6 rated box with a latching lid. Made of polycarbonate plastic infused with 10 % fiberglass, the box features exceptional strength, impact resistance and tight tolerances.
Applications where the NEMA-rated enclosure protects electrical and electronic designs include the factory floor where equipment wash downs are necessary, in outdoor dusty and corrosive environments, and even where temporary submersion may occur. The enclosure houses machine controls, Wi-Fi and radio equipment, lighting, and access controls.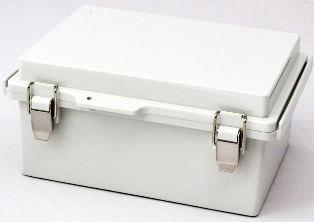 Bud Industries Tablet Enclosure. Source:Bud Industries Available in 10 sizes ranging from 5.91 inches x 5.91 inches x 3.34 inches to 24.8 inches x 20.87 inches x 10.04 inches, it features a hinged latching lid or a clear polycarbonate lid. The optional clear lid allows for non-invasive inspection. It also includes stainless steel latches and continuous gasket to ensure reliable performance.
The PTQ Series enclosure is available from stock at prices starting around $15.50 with volume discounts. Options include a steel or plastic internal panel and external mounting brackets. The enclosure ships fully assembled.
To contact the author of this article, email [email protected]
Related Links:
For more information on Bud's new PTQ Series NEMA 4 enclosure, visit www.budind.com/ptq.
A video at www.budind.com/ptq-video shows a PTQ enclosure being driven over by a car in order to demonstrate its superior strength.