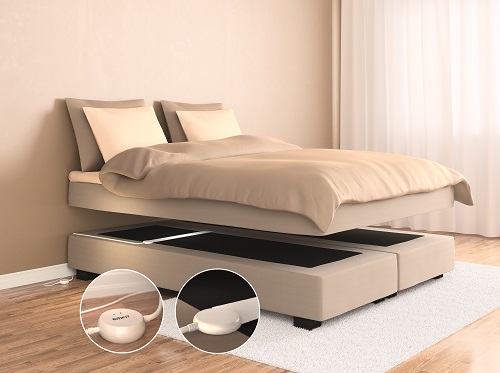 Because the sensor is under the mattress it can't be heard or felt by users. Source: EMFITEMFIT, a Finland-based healthcare company, has introduced a new smart sensor system for mattresses designed for the elderly and for athletes that provides recovery and readiness analysis based on whole-night heart rate variability (HRV).
HRV is an indicator of aerobic fitness and health conditions, including stress and sleep apnea. It helps determine how an athlete's body reacts and adapts to the stresses of training and indicates readiness for competition.
For caregivers, the smart sensor system helps monitor the routine and sleep habits of patients who are at risk of falling or who may wander due to dementia or memory loss. The system can also detect when a user is in or out of bed, awake or asleep.
Other features include measuring heart and breathing rate, stress levels, sleep quality, and length of time for deep, REM, light or total sleep. It also has an autonomous monitoring system using Wi-Fi or a cellular signal to automatically send data to a secure cloud server. No app or software is needed and the sensor is placed under the mattress for comfort, and users do not feel it, hear it or move it during sleep. Several application programming interfaces are available for integration with smart home, internet of things (IoT) systems.