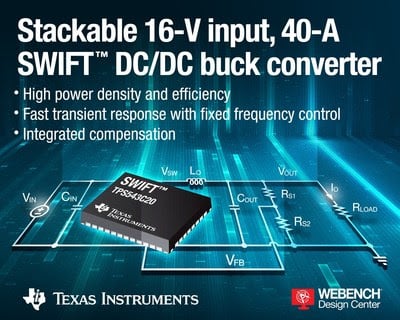 The TPS543C20 buck controller. Source: Texas Instruments Texas Instruments (TI) has introduced what it claims is the first 16-volt, 40-amp synchronous DC/DC buck converter with an internally compensated advanced-current-mode (ACM) control topology for frequency synchronization.
The TPS543C20 integrates low resistance, high- and low-side MOSFETs into a thermally efficient, small-footprint package that allows designers to stack two converters side by side to drive loads up to 80 amps for processors in space-constrained and power-dense applications. These applications include wired and wireless communications, enterprise and cloud computing and data storage systems.
The ACM control topology maintains stability over a wide range of input and output voltages. TI says the ACM emulates peak-current-mode control topology that internally generates a ramp with the ability to dynamically adjust for stability over a wide range of operating switching frequencies. TI says this provides the best of both traditional fixed frequency for low noise operation and constant on-time control for fast transient without external compensation.
The buck controller is available now priced in small reels for $5.24 for 1,000 unit quantities.