Q: How many New York Mets does it take to change a tire?
A: One, unless it's a blowout, in which case they all show up.
They've done it again. Fans were hopeful at the start of the 2017 baseball season, but the New York Mets (or more formally, the Metropolitans) are now delivering the agony of defeat and the nil of victory. Although the Amazin' Mets have won two World Series titles, five National League pennants and six National League East titles, the team is about to have their seventh losing season in their last nine.
What are loyal but frustrated fans to do? We can try to convince Mets managers, coaches and players to lean on new technologies in their quest for a third World Series title.
Smart Bats Build Better Batters
Several companies now offer swing trackers, which are small sensors attached to the knob of a baseball bat.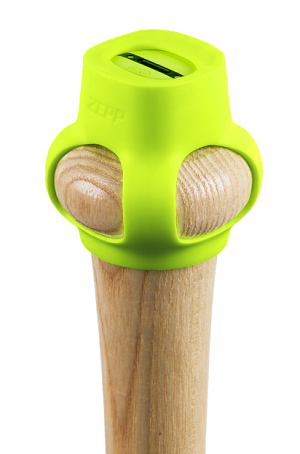 Swing tracker from Zepp. (Source: Zepp)The device measures the position and movement of the bat and sends those data to an accompanying app on a smart phone or tablet. The user can examine a new stream of data about his swing, such as hand speed, barrel speed, time to impact and bat angle.
With swing tracking data, a coaching staff can better identify the hitters who are injury risks and those who would benefit the most from strength training. Considering the number of players currently on the disabled list, this could be a crucial tool for the Mets.
Cameras and Wearables to Improve Pitching
Injuries to pitchers have largely derailed the 2017 season for the Mets. Fortunately, pitcher performance can also be improved and risk of injury reduced with new technology.
PITCHf/x is a pitch tracking system from Sportvision (Fremont, Calif.) which monitors the velocity, movement, release point, spin, and pitch location for every pitch thrown in baseball. Pitches and pitchers can be analyzed and compared at a detailed level. The system has been installed in all 30 Major League Baseball stadiums and currently tracks pitches for every MLB game. Three tracking cameras record the pitch from the time it leaves the pitcher's hand until it crosses the plate, and sends this information to the central pitch tracking system to calculate and store the digital record of the pitch.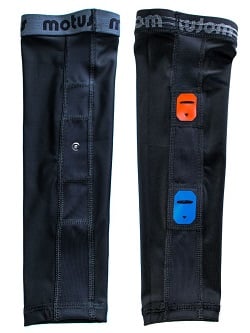 Sensor-equipped compression sleeve. (Source: Motus Global)Sports technology company Motus Global (Rockville Center, N.Y.) devised a sleeve for pitchers to wear called the motusThrow. This device contains a small sensor embedded in the sleeve that measures the pitcher's motion in a similar way to how a swing tracker measures bat movement. The mThrow can provide data that can be used to help improve the pitcher's delivery, measure fatigue, prevent injuries and rehab after injuries.
Injury prevention in particular is a hot topic right now, given the number of Tommy John surgeries in the major leagues over the past few years. Having real-time data could potentially prevent a lot of injuries.
Gotta Be the Shoes
Maybe the Mets would benefit from the "athletic positioning technology" promoted by Athalonz (Mesa, Ariz.). The company designed G-Force cleats that put the wearer in a position to generate maximum energy transfer through the legs. Apparently current baseball cleats (or at least those worn by the Mets) are incapable of this feat. The shoe reportedly increases the power an athlete can deliver, simply by making a few small adjustments to the positioning of the feet.
Big Data
Sabermetrics is the empirical analysis of baseball, especially baseball statistics that measure in-game activity. It can be applied for multiple purposes, but the most common are evaluating past performance and predicting future performance to determine a player's contributions to his team.
Despite its utility, team manager Terry Collins would rather trust his eyes than a series of equations. "I'm not going to sit there today and look at all these (expletive) numbers and try to predict this guy is going to be a great player," Collins told USA Today. "OPS this, OPS that. GPS. LCSs. DSDs. You know who has good numbers? Good (expletive) players."
Someone should suggest to Mr. Collins that Sabermetrics and its On-Base Plus Slugging (OPS) for hitters, Walks Plus Hits Per Innings Pitched (WHIP) for pitchers, and Wins Above Replacement (WAR) for every player can enable a general manager to predict performance. And maybe have a winning season.
Robo-Umpires
Maybe letting a computer call balls and strikes would be an objective measure of aid for the Mets. A minor league team in northern California has experimented with a computerized umpire. The robo-ump forms a new strike zone as each batter steps up to the plate, based on data from three cameras stationed around the ballpark. As each pitch is tracked and determined to be a ball or strike, a human announces the call to the players and fans.
Not Recommended
Electronic technology can also be exploited to undermine fair play and tarnish the patina of America's favorite past-time. The New York Times recently reported that the Boston Red Sox admitted to Major League Baseball they used an Apple Watch to steal hand signals from opposing catchers -- including the New York Yankees -- and relay them to Boston players. While swiping signs has long been part of the game, using electronic devices to do it is against the rules.
Oh, well. There's always next year.