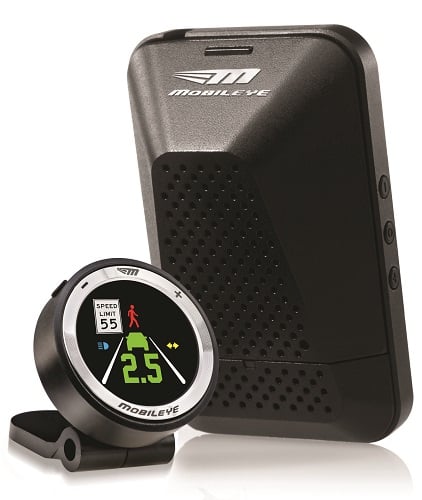 The aftermarket ADAS system provides visual and audio alerts to drivers, warning of potential road dangers. Source: MobileyeMobileye, a division inside Intel Corp., has signed an agreement to provide its aftermarket Advanced Collision Avoidance System to clients of Munich Reinsurance America Inc. (Munich Re).
The advanced driver assistant system (ADAS) is designed to help avoid collisions among fleets and improve driver behavior through the use of warning signals. These signals include both visual and audio alerts that are sent to drivers in order to warn of potential road dangers.
The agreement with Munich Re will mean the retrofitting of existing vehicles with Mobileye's ADAS technology. Munich Re will also conduct a loss analysis to help quantify the potential impact of the Mobileye technology on a commercial fleet of clients.
The goal is to decrease the number of traffic fatalities in the U.S. through collaborations that address the challenge of automobile collisions that result in deaths. Mobileye says its crash avoidance systems have helped to reduce overall crashes by 60% including a 43% reduction in lane departure-type crashes and a 95% reduction in forward collisions.
"As Americans drive more miles and engage in activities that take their attention off the road, such as texting and talking on cellphones, the number of traffic crashes and fatalities has grown. Adding a crash avoidance system to a company's risk management program for its fleet of vehicles can help mitigate the risk of a crash," says Mike Scrudato, senior VP and strategic innovation leader of Munich Re. "Our partnership with Mobileye offers our client companies and their customers with a range of fleet vehicles—from auto to light- and heavy-duty trucks to buses—tools to help reduce property losses and help save lives."