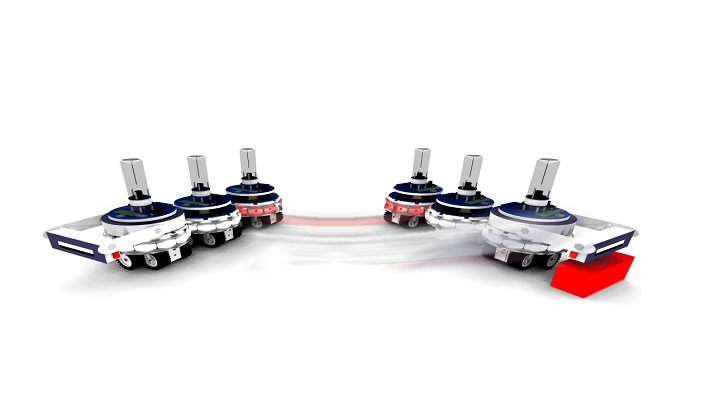 Rendered 3D-model illustration showing coordination motion of an MNS robot. Source: Marco Dorigo and Nithin Mathews/IRIDIA Lab, Université libre de Bruxelles.Modular robots that can merge, split and even self-heal. It's a new frontier in artificial intelligence that may bring us closer to robots that can autonomously change their size, shape and function.
The robots' capabilities are discussed in the review Nature Communications. Designed by a team led by Marco Dorigo, co-director of the IRIDIA Laboratory at the Université Libre de Bruxelles, the robots can adapt to tasks and environments while maintaining full sensorimotor control. They choose appropriate shapes and sizes by splitting and merging, and they can remove or replace malfunctioning parts – including a malfunctioning brain unit.
Many robots are controlled by "robotic nervous systems" of sensors and actuators connected to a central processing unit, but in most cases, those systems are mapped to the robot's specific shape. Using modular robots made of multiple units allows for increased adaptability – but coordination and control may still be constrained by a limited set of predefined shapes into which the units can form.
The "mergeable nervous system" (MNS) design created by the researchers transcends that limitation.
"Robots have the potential to display a higher degree of lifetime morphological adaptation than natural organisms," the researchers state. "MNS robots constitute a new class of robots with capabilities beyond those of any existing machine or biological organism."
According to their paper, the researchers have been developing prerequisite technologies for MNS robots for 10 years. Although the robots operate in two dimensions, which limits their options for connectivity, extending to a three-dimensional configuration with flexible joints is a planned next step.
Interested readers can download a set of four different videos [file download] demonstrating the robots' capabilities. While the system shown is comprised of only 10 units, the researchers suggest that it would be easy to scale up. They further propose that in the future, robots will not be designed and built for a particular task, but will possess the ability to adapt to changing task requirements.