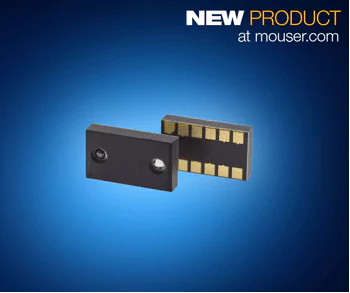 The RFD77402 from RF Digital. Source: Mouser
Mouser Electronics, Inc. is now stocking the RFD77402 Simblee™ internet of things (IoT) 3D time-of-flight (ToF) sensor module from RF Digital. The RFD77402 module is founded on the Simblee platform that offers an end-to-end development environment for a variety of IoT applications from white goods and consumer and industrial measurement devices to gesture recognition and robotics.
The RF Digital RFD77402 Simblee IoT 3D ToF sensor module integrates an embedded light sensor, vertical cavity surface emitting laser (VCSEL) driver, microcontroller and onboard memory for accurate distance mapping and 3D imaging technology.
The module uses the eye-safe laser to measure the amount of time it takes to bounce off a target. The high-repeatability laser has an 850 mm wavelength light source and offers an overall sensing distance from 100 mm up to 2 meters. Designed specifically for applications requiring accurate distance mapping and 3D imaging using the sensor module's ToF capabilities, the RFD77402 offers a 10 Hz maximum refresh rate and an I²C interface for device control and data transfer.
RF Digital's RFD77402 Simblee IoT 3D ToF sensor module is available in a 4.8 mm x 2.8 mm x 1.0 mm SMD package and is suited for a broad array of IoT sensor applications that require accurate distance measurement, user detection, obstacle detection and avoidance, gesture detection and recognition, directional movement and volume or height control.
To learn more about the RFD77402 sensor module, visit Mouser.