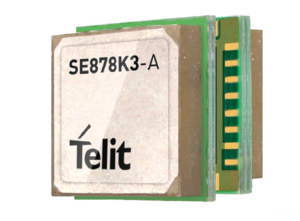 The SE878K3-A antenna module. Source: TelitSan Jose, California—Internet of things (IoT) chip supplier Telit introduced a new series of GPS and global navigation satellite system (GNSS) integrated antenna receiver modules at this week's Sensors Expo.
The antenna modules are compatible with GPS, GLONASS, Beidou and Galileo to enable device manufacturers to develop cost-effective location-based IoT solutions for use in virtually any country worldwide.
The SE878K3-A and SE878K7-A modules include dual internal-external antennas to ensure connectivity when one is compromised or stops working as well as a SAW filter for jamming immunity. Telit said these features allow the antennas to be used in applications such as high-end asset tracking, stolen car recovery or security alarms.
Telit said the modules integrate with the company's cellular modules — including eCall/ERA-GLONASS compliant solutions — that allows the antennas to be used in telematics applications such as fleet management, road tolling and in-vehicle navigation systems.