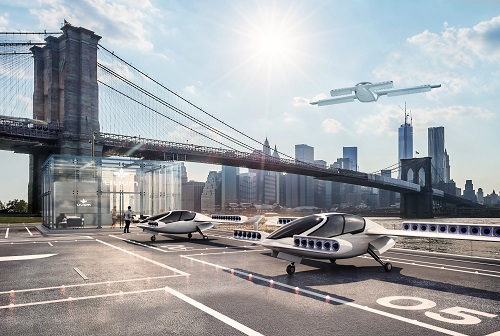 An artist rendering of a possible Lilium Jet fleet in a city center. Source: Lilium Flying car start-up Lilium has raised $90 million in a Series B funding round that the company says it will use to develop a five seat jet that will fly commercially as well as grow its current staff.
In April, the company was able to perform maneuvers with a full-size prototype of their vehicle that transitioned between hover mode and horizontal flight.
Lilium says this investment will begin the next stage of the company to bring the idea to production of an aircraft that will revolutionize the way people travel. The investment makes Lilium one of the best funded electric aircraft projects worldwide, the company says.
The Lilium Jet's electric engines are efficient and low noise so that the aircraft can function in densely populated urban areas, while being able to cover long distances at high speed with zero emissions. Lilum says the jet will require no significant infrastructure and will bring transportation services to small cities and villages as well as large city centers for the first time.
The jet can travel up to 300 kilometers per hour on a one hour charge and Lilium says because it is electric a journey could cost less than a normal road taxi.
The funding round was led by Tencent, LGT, Atomico and Obvious Ventures. The investment increased the total capital raised for the start-up to more than $100 million.