Magewell is launching the Flex I/O HDMI 4i2o, the second card in the new Flex I/O family of PCI Express input/output cards. The new model will be showcased at Magewell's stand at the IBC2017 event in Amsterdam in September.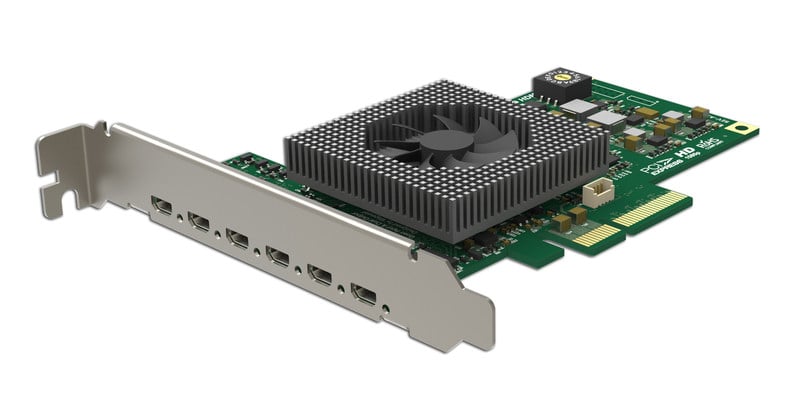 Magewell's new Flex I/O HDMI 4i2o input/output card offers outstanding channel density, performance and versatility for capture and playout applications. Source: Magewell
Building on Magewell's hallmarks, the Flex I/O series extends the benefits of the company's capture devices to output and playout applications, filling a market need for high-performance output cards.
Combining channel density and flexibility, the first two Flex I/O models feature four input channels and two outputs. All inputs and outputs can be used simultaneously with independently differing resolutions, frame rates and processing settings. Each input channel can be routed to multiple software applications in parallel, enabling concurrent tasks like live streaming, recording and playout from a single card.
The Flex I/O family has 10-bit FPGA-based video processing and provides up/down-conversion, video adjustments and graphic overlay while maximizing CPU availability for third-party software. Drivers for the Flex I/O cards will be available for Windows, Linux and Mac operating systems. Support for popular APIs like DirectShow and V4L2 enables extensive software compatibility. A comprehensive software development kit will allow third-party developers to take advantage of the card's full advanced feature set.
Both Flex I/O models are expected to start shipping in late September. To learn more about this new product, visit the Magewell site.