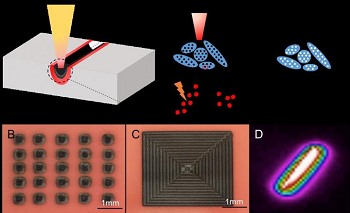 Laser induced soil decontamination (A), laser generated patterns (B and C) and an infrared image of temperature distribution along track of laser movement (D). Source: AIP PublishingMany methods are available to treat contaminated soils but all have limitations. Ex situ techniques, which require soil to be excavated and transported off-site for treatment, are labor- and cost-intensive. Soil vapor extraction is primarily suitable only for permeable and homogeneous soils, while solvent washing is not effective for soil containing clay and can cause secondary soil contamination.
An in situ, low-cost decontamination approach based on the use of focused excimer lasers has been developed and demonstrated by researchers from Northeastern University (Boston, Mass.). The technique was tested on a simulated soil made from porous silica contaminated with DDE, a byproduct of DDT pesticide degradation. The DDE molecules fluoresce under ultraviolet light, making them easier to detect.
A 30 W long-pulse CO2 laser with a beam diameter of 75 μm and a speed range of 0.85 to 100 mm/s was used to irradiate the artificial soil. The fluorescence ceased almost immediately after the laser was activated, indicating the destruction of DDE.
The researchers explain that the laser light heats pollutants to temperatures of thousands of degrees Celsius, which is sufficient to break chemical bonds and fragment contaminants into smaller, safer molecules such as carbon dioxide and water.
In principle, the approach should be effective for all types of contaminants, from organic compounds to metal ions. But first, the researchers conduct more experiments with other pollutants.