TDK Corporation has introduced the TDK-Lambda HQA120 isolated DC-DC converters. Rated at 120 W, the HQA120 has been qualified with methods consistent with MIL-STD-883 and MIL-STD-202, making it suitable for use in COTS and harsh environment industrial equipment. Initially available with 12 V, 24 V and 28 V outputs, the encapsulated quarter bricks accept a wide range of DC input from 9 V to 40 V, withstanding a 50-V surge for 10 seconds.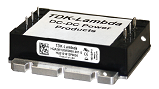 HQA120 DC/DC converters. Source: TDK-Lambda A choice of two grades is offered: –S for standard industrial applications, or –M using wide temperature, high-grade components and additional product testing for enhanced reliability. This includes functional testing at low, high and room temperatures, a 96-hour extended burn-in period and 10 temperature cycles. With typical efficiencies of up to 89%, internal heating is minimized, allowing the HQA converters to operate in high ambient temperatures of up to 115° C and a minimum of –55° C (M grade), or –40° C (S grade). Switching frequency is fixed at 270 kHz for simplified noise filtering.
The converter pinout follows the industry standard five-pin quarter brick footprint, featuring negative logic remote on/off and +/– remote sense. Two package styles are offered: a flanged type measuring 2.39 x 2.2 x 0.5 in. and a non-flanged version measuring 2.39 x 1.54 x 0.5 in.
Input-to-output and input-to-baseplate isolation is 2,250 Vdc (basic), and the converters are safety certified to UL/CSA/EN 60950-1 (2nd edition), carrying the CE mark in accordance with the LV Directive and RoHS Directives.