Custom MMIC (Chelmsford, Mass.), a developer of performance-driven monolithic microwave integrated circuits (MMICs), announces the CMD241P4, a packaged version of their popular CMD241 ultra-wideband GaAs MMIC distributed low noise amplifier. The wideband operation, low noise figure, low current consumption, excellent return loss and compact size of this distributed amplifier device make it ideal for use in L-, S-, C-, X-, Ku- and K-band wideband radar, broadband microwave/millimeter wave communications, SATCOM and test and measurement instrumentation applications.
The CMD241P4 exhibits gain greater than 13 dB with a low noise figure of 2.3 dB. Both the gain and noise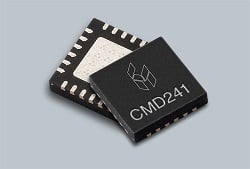 Source: Custom MMICfigure of this distributed amplifier are both extremely stable over a temperature range of -55° C to +85° C. The CMD241P4 demonstrates a 1 dB compression point beyond +21 dBm at 11 GHz and an output IP3 of +28 dBm, operating off a positive 3 to 8 volt supply, with an extremely low current draw of only 74 mA. The input return loss is typically 13 dB and the output return loss is 15 dB.
The distributed amplifier comes in a Pb-free RoHs compliant 4x4 QFN plastic package. Also incorporated into the design of this MMIC is a 50 Ohm matched impedance at the input and output ports, which removes the need for both external DC blocks and RF matching.