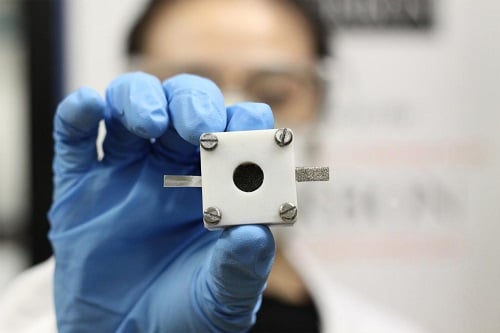 A researcher holds a rechargeable zinc-air battery. Source: University of Sydney Zinc-air batteries are powered by zinc metal and oxygen from the air. Because of the abundance of zinc metal in the world, these batteries are cheaper to produce than lithium-ion batteries. They can also store more energy, are safer and more environmentally friendly.
However, the widespread use of zinc-air batteries has been hindered because they are difficult to recharge. This is due to the lack of electrocatalysts that reduce and generate oxygen during the discharging and charging of a battery.
Now, University of Sydney researchers have found a solution with a new three-stage method that creates bifunctional oxygen electrocatalysts for building rechargeable zinc-air batteries from scratch.
"Up until now, rechargeable zinc-air batteries have been made with expensive precious metal catalysts, such as platinum and iridium oxide. In contrast, our method produces a family of new high-performance and low-cost catalysts," says Yuan Chen, a professor from the University of Sydney's Faculty of Engineering and Information Technologies.
The catalysts are produced through the simultaneous control of composition, size and crystallinity of metal oxides of earth-abundant elements such as iron, cobalt and nickel. These catalysts can then be applied to build rechargeable zinc-air batteries, researchers say.
Trials conducted by the researchers with the new catalysts have demonstrated rechargeability of less than a 10 percent battery efficacy drop over 60 discharging/charging cycles of 120 hours.
The full research can be found in the journal Advanced Materials.