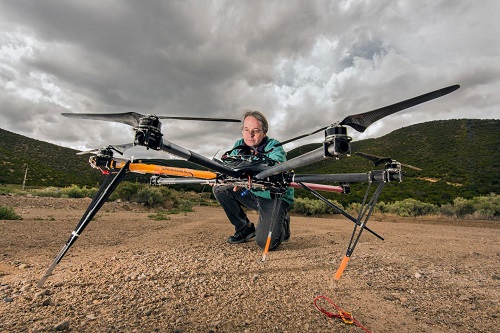 A Sandia researcher checks the status of a drone used for gathering atmospheric data. Source: Sandia National Laboratories Researchers at Sandia National Laboratories have combined a tethered balloon and an unmanned aerial system (UAS) for the first time to gather Arctic atmospheric data with better location control than ever before.
Unlike tethered balloons, drones don't require helium, a nonrenewable resource, and can take off with less preparation, allowing them to be launched from more remote locations. This system allows for the collection of precise data for weather and climate models and integrates the operational and sensing needs for Arctic research that will serve a variety of national security needs.
Tethered balloons have been used in dedicated Arctic airspace since 2015 at the northernmost point of Alaska's Prudhoe Bay. The 13-foot balloons carry temperature sensors to collect temperature profiles or air temperature at different heights above the ground.
"The UAS and the balloon really complement each other in that the UAS has a smaller flight time, but it's much more spatially diverse. The tethered balloon can stay up for a long time, giving you a lot of data, but it's not easily mobile," says Dari Dexheimer, atmospheric scientist at Sandia.
The wind-blown balloon is limited by its tether. On the other hand, drones can be directed to precise GPS coordinates.
This summer, the team tested the drone-balloon setup at Sandia, figuring out how to best secure and reel out the four-football-field long distributed temperature sensor cable while ensuring that it didn't get tangled in the drone's rotors. They then worked out the logistics of operating the balloon and the system at the same time. With the balloon tethered downwind, the UAS stayed about 100 feet away.
The tethered balloon carries special supercooled liquid water sensors that remain a liquid below 0 degrees C. These liquids perform differently from normal clouds, sticking around for days and acting like a blanket to the warm surface below. The sensors are vibrating wires upon which supercooled liquid water can freeze causing ice buildup. When the vibration slows the researchers can tell how much water is present in that part of the cloud.
The next steps are to add these supercooled liquid water sensors to a fixed-wing drone and fly the drone into the clouds. As the ice builds up on the device, it will determine how to mitigate the effects of icing and eventually collect useful data on cloud conditions with more spatial control than a tethered balloon.
"Our ability to run UASs as well as tethered balloon operations in the Arctic, and our ability to combine those measurements and computer modeling in innovative ways, allows us to really put the Oliktok facility to use for the national security and science communities," says Lori Parrott, manager of atmospheric sciences at Sandia.