A new system from Mahr (Gottingen, Germany) measures camshafts completely in 3D through a combination of optical and tactile probes. The MarShaft SCOPE 600 plus 3D also features Mahr measuring software MarWin to effect 3D functionality for the first time and a complete testing of the camshaft in one clamping.
Every year, over 100 million camshafts are produced worldwide. The cams control the intake and exhaust valves of combustion engines. Camshafts are continually optimized to reduce fuel consumption, pollutants and noise emissions. The exact quality control of workpieces plays an increasingly important role because unrecognized tolerance exceedance often leads to the malfunction of entire assemblies. Manufacturers of camshafts must therefore adhere to 100 percent geometric control.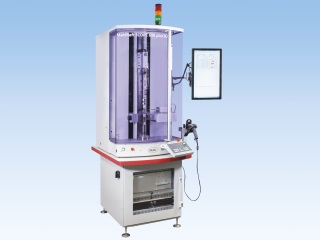 (Source: Mahr)The measuring station was designed for this purpose, and includes a new 2D touch probe, a motorized tailstock and a special calibration for linear axes (Z-X-Y). Within a few seconds, the matrix camera optically measures characteristics such as diameters, lengths, radii, shape, contour, location characteristics, cam angle or the cam lift. The additional 2D sensor detects features that cannot be measured optically, such as concave cam shape, run-outs, reference elements in axial direction and axial holes.
The MarShaft SCOPE 600 plus 3D is also a time-saver, measuring a four-cylinder camshaft in five minutes compared with 30-40 minutes per workpiece needed for the classic coordinate measuring technique. In addition, the measuring station can be located directly in production at the processing machine for the respective processing step. The motorized tailstock ensures that the workpieces are always clamped with the same clamping force and the influence of the operator is excluded.
The measuring station is already developed for the networked factory of Industry 4.0. and is networked, sending correction data in closed loop to the machine tool when there are deviating tolerances. As a measuring machine with local intelligence, it has an optional barcode reader with which the workpieces can be detected and then automatically starts the correct measuring program.