Vicivision America is back at the International Manufacturing Technology Show (IMTS) in Chicago, held September 12 through September 17 (East building, level 3, booth 135663) to showcase its full range of rotational optical measurement systems — from the X Series to the PRIMA, the newest addition to its lineup.
X series: the best way to measure small components
The MTL X5 is specially designed for micromachined and swiss turned parts such as dental implants and electrical connectors. The design facilitates loading and unloading operations, even with difficult-to-handle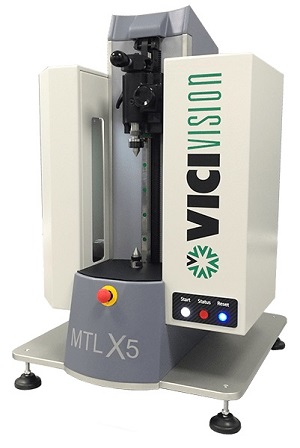 Source: Vicivision America parts, and the absence of openings or undercuts in the machine eliminates the risk of small parts falling.
The machine's high resolution allows it to inspect the external profile of even extremely small parts, thanks to a measuring field of up to 16 mm x 100 mm.
With a simple click, any operator can check production running the measuring program and, in a few seconds, get a detailed result of the component on the screen, and the data are collected by the system for statistics and traceability purposes to produce measurement reports and to monitor the production trend, meeting the needs of Industry 4.0.

Techno range for benchmark reliability
The Techno machines match current and future manufacturing demands. Specific expertise and carefully selected components have created a highly efficient range of solutions.

Among these, the M606 Techno with automation assures accurate and fast measurements on the shop floor, allowing for easy and safe loading of cylindrical parts when running inspection in a robotic cell.
The M918 Techno, equipped with a Renishaw Scanning probe mounted on the top of the light source, represents the optical and tactile combination for unbeatable performance.
This combo system allows for more capability when measuring turned parts, giving the end users the possibility to measure: axial and total axial run-out, length, planarity, perpendicularity, keyway width, keyway depth, and keyway length.

PRIMA: the measuring machine for all CNC lathes
The other Vicivision machine on the stage at IMTS is the new PRIMA, a machine optimized for turning process control that comes from thousands of customers' experiences. Designed for daily use, PRIMA makes production cost-effective by speeding up processes, tracking quality and reducing rejects and downtime.
PRIMA compacts the 90% of the measurement tools used every day in one platform with a smaller footprint and a better return on investment.