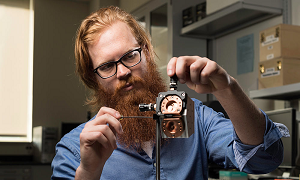 University of Rochester Ph.D student Jacob Reimers is pictured with a prototype spectrometer he designed over three years using free-form optics. Source: University of Rochester
A new twist on the design of spectrometers lends itself to increased resolution and imaging performance for a variety of applications. Researchers at the University of Rochester, N.Y., have demonstrated the development of more complicated, free-form optical surfaces that offer analytical benefits relative to the rotational symmetry of traditional optical designs.
Free-form optics fabricated by computer numerical control and new diamond turning technology enable a device to efficiently correct aberrations with fewer, smaller lenses and mirrors. Sensors, mobile displays and other devices based on this approach will be more compact, lighter in weight and less expensive. Performance is also expected to be superior to that of devices containing traditional lenses and mirrors.
A spectrometer designed by the researchers using three free-form surface mirrors is five times more compact than similar spectrometer designs using more conventional mirrors. The instrument allows a three-fold increase in the bandwidths analyzed and is 65 times more effective at correcting aberrations that affect field of view and resolution. This device is based on the Offner-Chrisp geometry widely used by the optical industry to correct aberrations created by more conventional surfaces.