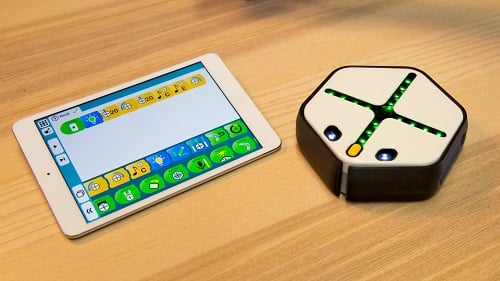 The Root robot can be programmed and remotely operated from an iPad to drive on vertical surfaces, draw, erase, play music and sense its surroundings. Image credit: Wyss Institute at Harvard University
A new startup has been formed out of members of the Wyss Institute for Biologically Inspired Engineering at Harvard University to develop robotics for children to learn coding abilities.
Root Robotics Inc. will be an independent company focused on teaching coding to children from an early age and then progressing through all age groups. While computing is among the fastest growing disciplines in the STEAM field (science, technology, engineering, art and math), coding education is significantly lagging behind industry demand, Root says
"All parents are being faced with a simple question: How will my kids learn coding," says Zivthan Dubrovsky, co-founder and CEO of Root Robotics. "Schools are struggling to figure out how to fit coding into their curriculum. As a father of three daughters, I struggled with this question as well. We created Root to help parents like me teach their children coding in a fun and engaging way."
The coding robot, named Root, can be programmed and remotely operated from an iPad to drive on vertical surfaces, draw, erase, play music and sense its surroundings. Root is designed to interest students at all levels with a graphical interface and progressing with steps that keep them motivated through to the introduction of programming languages such as Python, JavaScript and Swift.
"Root really allows children to find their own trajectory in coding, by enhancing their natural interests and allowing them to go at their own pace. This makes for a very personal experience, which can be used with little kids or even in undergrad classrooms like mine," says Radhika Nagpal, co-founder of Root Robitics and co-lead of the Wyss' Bioinspired Robotics Platform.
The programming activities start at a beginner level with a graphical, blocks-based environment, then transitions into intermediate graphical and text hybrid interfaces and finally advances to professionally-used text-based languages. This allows children to learn the basics and then continue to improve skills through the Root system.