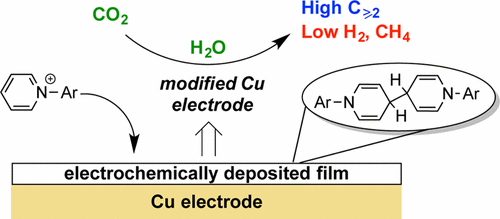 Electrocatalytic CO2 reduction to generate multicarbon products is of interest for applications in artificial photosynthetic schemes. Image credit: Joint Center for Artificial Photosynthesis (JCAP), a U.S. Department of Energy (DOE) Innovation Hub
There are several ongoing research efforts to convert CO2 into carbon-based fuel. Most of the outcomes obtained from these experiments result in the creation of many by-products. In particular, the chemical reduction of CO2 normally results in the creation of hydrogen and methane in abundance. These are gas fuels that can be used as energy sources. However, because they are gases, they do not store much energy per volume. Liquid fuels, on the other hand, have a huge capability to store energy.
For some time the Joint Center for Artificial Photosynthesis (JCAP), a U.S. Department of Energy (DOE) Innovation Hub at the California Institute of Technology, has been working in the creation of liquid fuels based on sunlight, water and CO2. Liquid fuels are byproducts of the CO2 reduction that contain multiple carbon atoms. For example, propanol with three carbon atoms is a liquid fuel that stores more energy than methanol, a gas, with only one carbon atom.
Last week, finally, a team or researchers at the JCAP at Caltech discovered a new additive that must be added to the reduction reaction in order to convert CO2 into fuels containing multi-carbon atoms, all of them liquid fuels.
"The results were quite shocking," says Jonas Peters, Bren professor of chemistry at Caltech and director of the Resnick Sustainability Institute, who jointly led the research in collaboration with Theodor Agapie, professor of chemistry at Caltech.
"Usually, in these types of reactions with CO2, you see a lot of by-products like methane and hydrogen. In this case, the reaction was highly selective for the more desirable fuels that contain multiple carbons—such as ethylene, ethanol, and propanol. We saw an 80 percent conversion to these multi-carbon fuel products, with only 20 percent or so going into hydrogen and methane."
The researchers, by combining several chemicals, found the ideal formula to create the multi-carbon fuels. To replace the role of light (sun) in the reaction they used a copper electrode that serves as a catalyst and a source of energy. The team added CO2 and a class of organic molecules called N-substituted arylpyridiniums. This mix formed a thin film over the copper, and for reasons not known yet, dramatically improved the reaction that selectively created ethanol, ethylene and propanol.
"It's easy to make hydrogen under these conditions, so usually we see a lot of it," says Agapie. "But we want to disfavor the hydrogen production and favor high-energy density liquid fuels with carbon-carbon bonds, which is exactly what we get in our experiments." "Nature has stored solar energy in the form of oil over a long period of earth history via a process that takes millions of years," added Peters. "Chemists would like to figure out how to do this much faster."
The research efforts were published by ACS Central Science July 21, 2017. An abstract can be found here: http://pubs.acs.org/doi/abs/10.1021/acscentsci.7b00180