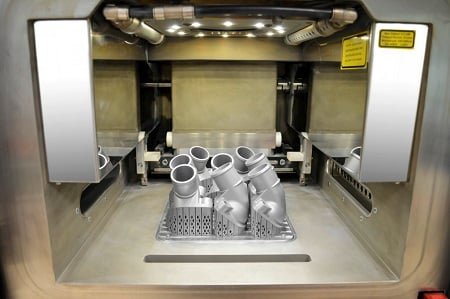 A thermostat cover for truck and Unimog models that was 3D printed in metal. Image credit: Mercedes-Benz
Mercedes-Benz Trucks has passed all the stages of its quality assurance process for its first 3D-printed spare part made of metal—a thermostat cover for truck and Unimog models from older model series.
While Mercedes-Benz has been working with 3D printing of plastic components for about a year in its after-sales and replacement parts, metal replacement parts are harder to develop and, therefore, test for quality. However, metal parts from 3D printers are very high strength and have thermal resistance. Moreover, parts can be produced with a touch of a button with any geometry and in any numbers.
3D replacement metal parts require no cost-intensive development work or procurement of special tools. Mercedes-Benz believes metal 3D printing could be used for peripheral engine parts made of metal, in-engine parts and also parts in cooling systems, transmissions, axles or chassis. 3D-printed metal parts in small numbers can be produced cost-effectively as infrequently requested replacement parts, special parts and for small and classic model series, Mercedes-Benz says.
"The availability of spare parts during a workshop visit is essential for our customers—no matter how old the truck is, or where it is located," says Andreas Deuschle, head of marketing and operations in customer services and parts at Mercedes-Benz Trucks. "The particular added value of 3D-printing technology is that it considerably increases speed and flexibility, especially when producing spare and special parts. This gives us completely new possibilities for offering our customers spare parts rapidly and at attractive prices, even long after series production has ceased."
The future of 3D-metal printing may allow decentralized and faster local production directly in the worldwide Mercedes-Benz production sites and improve the availability of parts, meaning the transportation processes currently used would be unnecessary with delivery times substantially shortened.