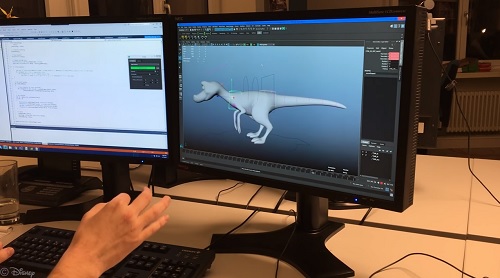 The tool allows novice designers to create motion cycles in animated characters quickly. Image credit: Disney Research
In video games or animated films, the way characters jump or kick or run is determined by motion cycle. However, enabling this process is not an easy one.
Disney Research is looking to make the task easier with a new authoring tool that allows novices to rapidly create motion cycles. The tool starts with input from a computer mouse or full-body motion capture suit and the software can automatically extract the looping cycle and allow the user to edit the motion as needed.
"The way a character walks or makes other repetitive motions is part of character development in animated features," said Markus Gross, vice president at Disney Research. "The resulting motion cycle provides a starting point throughout production for a variety of cyclic movements. By making it easier to author these loops, our research team is enhancing the creative process and expanding the variety of artists who can contribute to the process."
Authoring of motion cycles traditionally relies on general-purpose animation packages with complex interfaces. With the Disney Research tool, motion cycles can be produced in a matter of minutes, making the process faster and more efficient for novices or experts, researchers say.
The tool includes an algorithm that can extract the motion cycle from a performance, a manipulation tool called MoCurves for editing both the shape and timing of motion on a character and a means for controlling a character's contacts with the ground and other surfaces.
As part of testing the system, researchers invited five novices to use the software to develop motion cycles. Each was given an hour to author a cycle, which resulted in the users being able to animate a character successfully.