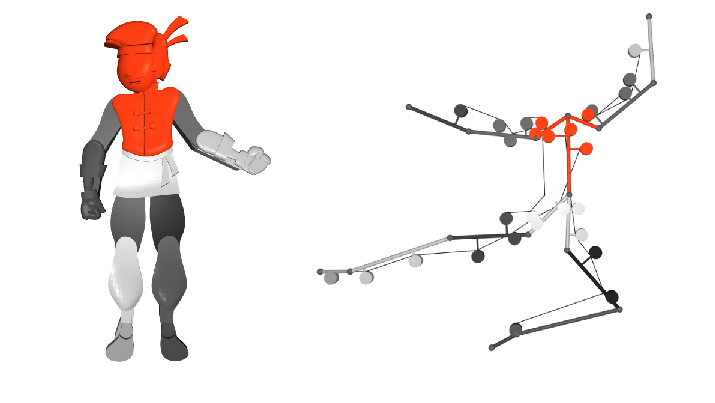 Cable-driven joint assembly for animated physical characters. Image credit: Disney Research.Three decades of graphics research have provided digital artists with a wealth of tools at their disposal for the creation of expressive animated characters. As presented at SCA 2017, the ACM SIGGRAPH/Eurographics Symposium on Computer Animation Los Angeles, a team led by Disney Research and MIT has leveraged 3D printing and affordable, off-the-shelf electronic components to bring that same sort of expressiveness to articulated, physical versions of those characters.
"A number of design tools developed over the past 30 years have enabled artists to breathe life into animated characters, creating expressions by posing a hierarchical set of rigid links," said Markus Gross, vice president at Disney Research. "In today's age of robotics and animatronics, we need to give artists and hobbyists similar tools to make animated physical characters just as expressive."
The researchers developed a method in which a user designs an assembly of rigid links and hinges, such as a skeletal frame, and then specifies a set of target poses. They demonstrated it by designing a 2D puppet-like version of an animated character able to assume several "fighting" stances. They also designed a gripper for picking up light objects, and a simple robotic hand with an opposable thumb.
Each incorporates joint assemblies driven by cables. Cables have some advantages for design -- they can be employed when artistic preferences dictate limb sizes for which motors are infeasible, and they are suitable for devices that must be small and lightweight to function. Because cables can only exert force by pulling, however, fully actuated joints must be equipped with two cables in order to move in both directions. In order to minimize the number of cables, the researchers incorporated springs into the joints to move them in the opposite direction when cable tension was eased.
The method also computes a cable network that can reproduce desired poses, which initially generates a large set of cables with randomly-chosen routing points -- typically a thousand or more. Redundant cables can then be gradually removed, and the routing points refined to take into account the path between poses and further reduce the number of cables needed.
For example, in the design for the "Fighter," the mechanical character's lower body design initially included 1,600 cables. The method was able to reduce this number to eight, in 25 seconds, and further refinement reduced it to three in just over three minutes. The 2D gripper, additionally, was able to pick up the light objects it was designed to lift, and the robotic hand demonstrated that the method could be used to combine cable drives in more than one plane.