KEMET Corporation has expanded its radio frequency (RF) and microwave product portfolio with a new series of Ultra HiQ-CBR Squared Multilayer Ceramic Capacitors. These devices feature a geometrically square construction resulting in lower inductance than standard EIA case sizes, thus improving low loss performance and operation at higher resonant frequencies.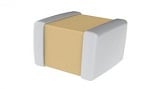 KEMET's Ultra HiQ-CBR Squared Multilayer Ceramic Capacitors. Source: KEMET
Ultra HiQ-CBR Squared MLCC capacitors are suited for high-power applications, such as wireless, satellite and microwave communications, RF and power amplifier modules, and medical electronics.

The capacitors are 250 VDC rated and are available in capacitance values up to 100 pF. KEMET is also expanding the existing HiQ-CBR product portfolio to include 200 VDC rated RF and microwave capacitors in EIA 0402 case size as well as extended capacitance offerings in EIA 0603 case size.