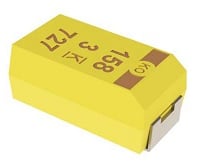 The new polymer electrolytic capacitor. (Source: Kemet)Kemet has introduced what it claims is the first commercial off-the-shelf (COTS)-grade polymer electrolytic capacitor that features an option for a 1,000-hour life.
The new option from Kemet provides capacitors qualified at 85 degrees Celsius with 85 percent relative humidity at rated voltage applied for 1,000 hours. The capacitors are used in decoupling in DC-DC converters or as hold-up capacitors in energy storage applications. The capacitance values up to 680 microfarads are available with the new extended life test option.
The capacitor comes in a small surface mount form factor of Hi-Rel COTS grade KO-CAP devices that helps reduce board space requirements.