Discovery of a new magnetic topological semi-metal could pave the way to more energy efficient computers,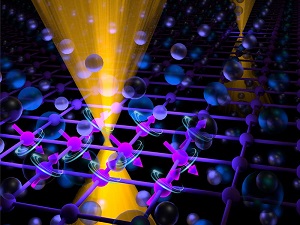 Image of new magnetic semimetal. (Courtesy of Oak Ridge National Lab)televisions, cellphones and other electronics. These materials represent a new quantum state of matter.
The current carrying electrons in topological materials behave as if they have no mass, similar to the properties of photons. The strontium-manganese-antimony semi-metal demonstrated nearly massless relativistic fermion behavior.
The development announced by an international research team offers scope to improve energy efficiency and to supply power for electronics, especially considering the continuing miniaturization of transistors in smartphones and other devices.
Researchers from Tulane University, University of New Orleans, Louisiana State University, Oak Ridge National Laboratory, National High Magnetic Field Lab at Tallahassee and Los Alamos, Chinese Academy of Sciences and Florida State University participated in this investigation.