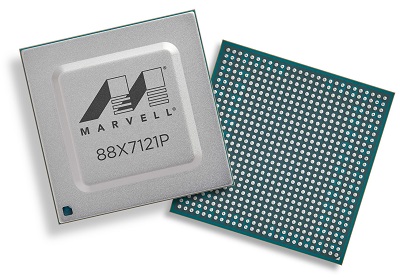 The PHY transceivers. Source: MarvellMarvell has introduced a dual 400 gigabit Ethernet MACsec PHY transceiver with 256 bit encryption and Class C compliant precision time protocol (PTP) timestamping.
The hardware point-to-point encryption encompassing Ethernet speeds up to 400G is being deployed in cloud, carrier and enterprise networks to address the market demand for enhanced data security, Marvell said. The PHY device uses Marvell's 56G PAM4 SerDes technology, IEEE 802.1AE 256-bit MACsec encryption and highly accurate PTP timestamping.
The device can be used for hyperscale data center, edge, enterprise and 5G infrastructure applications.
The 88X7121P supports both retiming and gearboxing applications and its footprint- and software-compatible to Marvel's 88X7120 PHY. The device is also compliant to IEEE standards for 400 GbE, 100 GbE and 50 GbE and exceeds electrical specification to interface with QSFP-DD and OSFP optical modules.