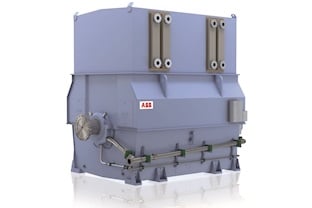 Image credit: ABB
ABB claims to have set a new world record for motor efficiency during tests of a new 44 MW six-pole synchronous motor before delivery to a customer. The efficiency recorded was 0.25 percent higher than the 98.8 percent stipulated in the contract, an improvement that could save around $500,000 in electrical energy costs over the expected 20-year lifetime of the motor.
The record efficiency was attained by optimizing the motor's electrical and mechanical design. Typical efficiencies for synchronous motors of this type are in the range of 98.2 percent–98.8 percent. If the new motor is run continuously, the 0.25 percent efficiency gain will save about 1,000 MWh annually, equivalent to the annual electricity consumption of 240 typical European households.
The motor will be used to drive a compressor at an air separation plant that produces industrial gases.