It wasn't long ago that companies believed that changing light bulbs in a facility yielded the greatest energy savings. But as government energy-efficiency mandates proliferate around the world, light bulbs are lighting up in the minds of company executives as they focus on an area that offers even greater energy – and cost – savings: the ubiquitous electric motor.
Indeed, electric motors, and the systems they drive, are the largest single consumer of electrical power. In aggregate, they use twice as much energy as lighting applications, which is the next largest user, according to a working paper by International Energy Agency (IEA) entitled The International Energy-Efficiency Policy Opportunities for Electric Motor-Driven Systems. In fact, electric motors and the systems they drive account for approximately 50 percent of total global energy consumption, which equates to about 6 billion metric tons of CO2 a year.
By 2030, without comprehensive and effective energy-efficiency policy measures, the IEA projects energy consumption from electric motors will rise to 13,360 TWh (terawatt-hours) a year and CO2 emissions to 8,570 metric tons a year. End-users now spend $565 billion a year on electricity used in electric motor-driven systems; by 2030, that could rise to almost $900 billion, according to the IEA.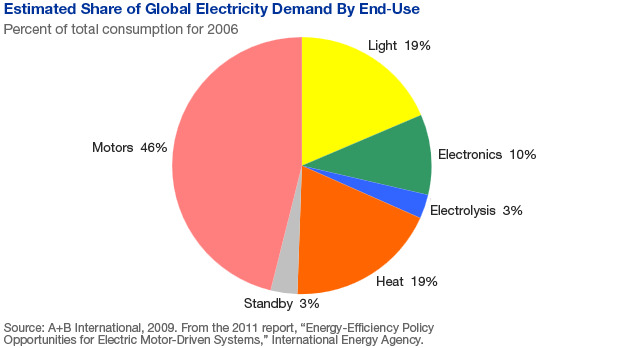 Those staggering numbers make it easy to see why efforts to increase energy efficiency are a top priority among industrialized countries worldwide. Motor-efficiency performance standards (MEPs) from multiple countries, including the U.S. and Europe, as well as potential end-user energy and cost savings, have been the key drivers accelerating demand for energy-efficient motor drives.
Global revenue for motor drives in 2011 grew 15.9%, to more than $11.2 billion compared with nearly $9.7 billion in 2010, and is expected to reach approximately $16.3 billion in 2016, according to a report by IHS entitled The World Market for Low Voltage AC & DC Motor Drives. The fastest growth will be taking place in the Asia-Pacific region, which IHS projects will be the largest market for motor drives by 2016, according to IHS.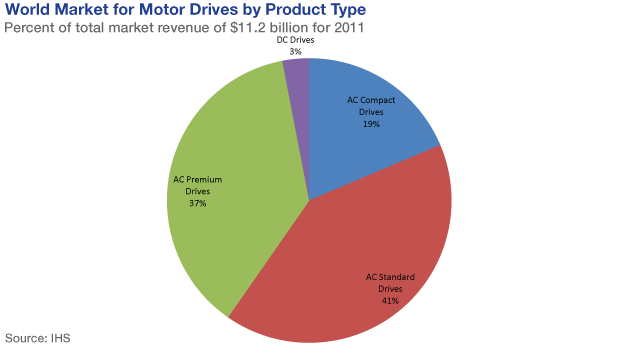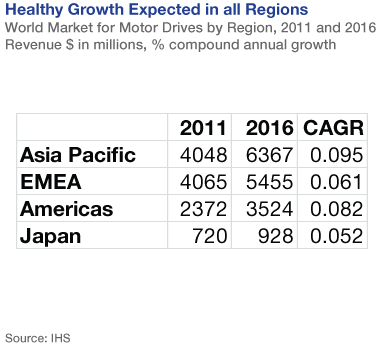 "Energy efficiency and energy prices are driving demand for drives, but at the same time it's a basic and necessary technology — it's always going to be there," said Jenalea Howell, Research Manage for Motor Controls at IHS. "As governments are now trying to cut electricity usage, we're seeing a lot more intervention that will impact this market and drive growth."
Europe leads the way
Although the low-voltage induction motor market is mature, there are several ways companies can boost efficiency, Howell said. In many applications, efficiency can be improved using a variable speed/frequency drive, which regulates and adjusts motor speed and rotational force, or torque output, of an electric motor. In the European Union, for instance, the ErP (Energy-related Products) directive issued in 2009 is expected to bolster demand for variable speed drives.
There are three phases in Europe's ErP directive; Phase 1 marked the transition to IE2 motors in 2011. IE2 is the second international efficiency (IE) class of low-voltage three-phase asynchronous motors in the power range from 0.75 kW to 375 kW. IE1 is classified as standard efficiency; IE2, high efficiency; and IE3, premium efficiency.
When Phase 2 of the directive takes effect in January 2015, IE3 efficiency levels will be required, either by changing to an IE3 motor or pairing an IE2 motor with a variable speed drive, according to Howell. In 2017, Phase 3 of the initiative will take effect and expand to cover integral motors rated up to 7.5 kW.
"As you increase the efficiency of a motor or a drive, you are ultimately saving energy. By installing a drive on a motor, a pump or a fan, for example, you are reducing the energy loss that would otherwise occur during start-up and running of the motor at full capacity. You can achieve up to 90 percent energy savings by installing a drive," said Howell.
She believes manufacturers will opt to use an IE2 motor with a variable speed drive rather than move to IE3-compliant motors. "The overall lifetime cost of an IE2 motor with a variable speed drive will be less than moving to an IE3 motor," Howell said.
The initial cost of an IE2 motor plus drive is actually higher than an IE3 motor. Based on IHS' research, an IE3 motor carries a 15 to 20 percent price premium over an IE2 complement. However, the energy efficiency savings provided by the drive option exceed the savings achieved by changing to an IE3 motor. Moving to an IE3 motor from an IE2 can provide about a 2 to 3 percent efficiency gain. By attaching a drive to an IE2 motor in a fan, pump or compressor, the efficiency gains often range between 40 and 70 percent, Howell added.
With Europe mandating the transition to variable speed drive option, it's likely other countries such as China will follow suit, making it the de facto standard, Howell said. The most recent change to China's motor efficiency performance standards came in September 2012, when the government mandated IE2 motors. The legislation included recommendations for IE3 and IE4, which are not yet mandated. So far there is no timeframe for when the government may require the higher energy efficiency standards, Howell added.
Optimizing the entire system
As the interest in energy savings grows, there is a trend toward integrated motor and drive packages, not only for gains in overall efficiency, but for more precise process control, said Sam Harris, business manager, Drive Technologies, for Large Drives at Siemens Industry, Inc. "For wide speed ranges and more intricate process control, definite-purpose inverter-duty only motors are available. These allow for speed ranges of 1000:1 and full load torque at zero speed," Harris said.
However, in fixed-output power applications, such as industrial plants that always need to operate at maximum output, a variable speed drive on a motor does not make sense since these control systems need a significant amount of power to operate. They can incur more energy losses and impose higher costs than a properly sized fixed-speed system. Manufacturers are looking outside the motor to save energy, and at the entire motor-driven system, which includes the motor, the drive and the gearbox. To see real benefits, users need to optimize the entire system.
John Malinowski, senior product manager for AC motors at Baldor, an ABB company, concurs. "We are trying to get beyond this component replacement concept to really look at system efficiency," he said.
Malinowski suggested companies look at all the components beyond the electric meter. The electric meter includes a power distribution transformer, a smart starter, soft starter or drive. It also includes the motor, which is always connected to the load through some kind of mechanical power transmission equipment with pulleys and couplings or a gearbox.
To achieve highest efficiency, manufacturers need to first identify what exactly the system is driving and determine whether it is the highest efficient device and it is installed correctly, Malinowski said.
It isn't energy-effective when a 96 percent efficient motor is on a pump that is 50 percent efficient. In this case, it would make more sense to buy another pump that is 75 percent efficient. With a more efficient pump, you can use a smaller motor to drive it to yield the same output, resulting in significant energy savings. "You need to select the end driver first and that determines the sizing of the other components," Malinowski said.
Another method to boosting motor efficiency has been through the use of die cast copper rotors, Siemens' Harris said. In fact, this recent introduction of die cast copper rotors by Siemens and a few other motor manufacturers yielded higher efficiencies than mandated by U.S. federal law, he said.
Harris is referring to the U.S. Energy Independence and Security Act (EISA) that was signed into law in 2007. EISA expanded the mandated energy efficiency standards from the Energy Policy Act of 1992 (EPAct). As of January 2011, all general-purpose three-phase AC industrial motors from 1 to 500 horsepower are required to meet NEMA (National Electric Manufacturing Association) Premium level efficiency standards.
For each general-purpose rating (Subtype I) from 1 to 200 horsepower, that was previously covered by EPAct, the law specifies a nominal full-load efficiency level based on NEMA Premium efficiency standards. All 230 or 460 volt motors currently under EPAct, manufactured after December 19, 2010, must meet or exceed this efficiency level.
"Currently, the Department of Energy is looking at additional energy savings potential and will amend the EISA law to include yet higher efficiency standards, moving forward," Harris said.