A new expansion card has been released for ClipperCreek's HCS product line of charging stations. COSMOS® is an option for the Level 2, 240-volt ClipperCreek HCS Series and can be added to any HCS Series charging station for $184.
COSMOS was designed for developers, system operators and system integrators and features a simple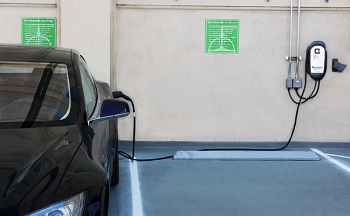 The Hyatt Regency Sacramento (California) recently installed 20 COSMOS-enabled ClipperCreek charging stations. Image credit: ClipperCreekdigital load management interface, as well as a universal asynchronous receiver/transmitter (UART) serial communication interface for more advanced connection to third party monitoring and control systems.
Available UART Serial commands include:
Set electric vehicle supply equipment (EVSE) pilot (available power) level — 5 levels
Monitor vehicle connected status
Monitor EVSE active/inactive status
View advanced EVSE diagnostics information
System defaults to hardwired digital load management if serial communication is lost
The digital load management interface features four levels of output power control and optically-coupled open collector output — pulled low when EVSE makes power available for charging.
COSMOS allows users to easily add EV charging to existing building and energy management or other control infrastructure.